Vietnamese food is distinctive and memorable. Their cuisine relies on the balance of sweetness, flavor, saltiness and sourness that is achieved through the use of nuoc mam, cane sugar, tamarind and the juice of calamansi citrus fruits. Vietnam dishes use plenty of fresh herbs but are not overly spicy as the chili sauce is served separately. With that in mind, we collected what we think are the 10 best Vietnamese Dishes. We even included our favorite recipes so that you can try them too.
After 3 trips from the North to the South of Vietnam, we have narrowed this group of great foods down to our 10 favorites. The number one choice for us is the delicious Banh Mi sandwiches served by Madame Khan in Hoi An. It is the best sandwich I have ever had anywhere in the world. A plain American Hamburger pales to the great taste of these. Every time we visit Hoi An we leave with at least 4 of these freshly made to take us down the road. If you are ever in Hoi An don't fail to pay a visit to Madame Khan the Banh Mi Queen. It will be well worth the trip and the food is so cheap you simply will not believe it.
Our 10 Best Vietnamese Dishes
1. Cao Lau
This noodle dish originated from the Central Province of Vietnam known as Quang Nam. The dish features pork and a shrimp-based broth, bright green lettuce and turmeric noodles. The softness of the pork, the tenderness of the shrimp and the crunch of crushed peanut and the sesame-freckle rice crackers are bound to give you an unforgettable food experience.
Ingredients:
2 tablespoons soy sauce 4 cloves garlic, minced, or more to taste
2 teaspoons Chinese five-spice powder
2 teaspoons white sugar
1 teaspoon paprika
1/4 teaspoon chicken bouillon granules
1 1/2 pounds pork tenderloin, cut into cubes
2 tablespoons vegetable oil
2 tablespoons water
2 pounds fresh thick Vietnamese-style rice noodles
2 cups bean sprouts
1 cup torn lettuce leaves
1 bunch green onions, chopped
1/4 cup fresh basil leaves
1/4 cup fresh cilantro leaves
1/4 cup crispy chow mein noodles, or more to taste
Instructions:
1. Whisk soy sauce, garlic, Chinese 5-spice, sugar, paprika, and chicken bouillon together in a large glass or ceramic bowl. Add pork cubes and toss to evenly coat. Cover the bowl with plastic wrap and marinate in the refrigerator for at least 1 hour.
2. Remove pork from marinade and shake off excess. Discard remaining marinade.
3. Heat oil in a large skillet or wok over medium heat. Cook and stir pork in hot oil until browned, 4 to 7 minutes. Add water; cook and stir until water evaporates and pork is cooked through, about 2 minutes more.
4. Bring a large pot of water to a boil. Rinse rice noodles under cold water and gently break noodles apart. Immerse noodles in boiling water until about half tender, about 30 seconds. Add bean sprouts to the water and noodles; continue cooking until tender but still firm to the bite, about 30 seconds more. Drain.
5. Combine noodles and pork mixture together in a large serving dish. Top noodles with lettuce, green onion, basil, cilantro, and crispy chow mien.
---
2. Goi Cuon
One of the most popular Vietnamese food dishes is Goi Cuon. The dish features translucent spring rolls that are packed with greens, and a combination of minced shrimp, crab, pork, and coriander. In some places, the dish is served with a dish of lettuce and mint. The dish is believed to have originated from China since it appears similar to the Chinese spring rolls. The dish is prepared in most Vietnamese restaurants and though when served fresh, flavorful and light, the dish will be a breath catching experience.
Ingredients:
1/2 pound pork tenderloin, cut into thin strips
1/2 pound prawns, peeled and deveined
1/4 pound rice vermicelli noodles
1 (12 ounce) package rice wrappers (such as Blue Dragon®)
1 bunch fresh cilantro, leaves picked from stems
5 spring onions, cut in half
1/4 cup fresh mint leaves, or more to taste
1/4 head romaine lettuce, cut into bite-size pieces
Instructions:
1. Heat a skillet over medium heat; cook and stir pork in the hot skillet until cooked through, 5 to 7 minutes.
2. Bring a pot of water to a boil; add prawns and cook until meat is pink. Drain water and slice prawns in half lengthwise.
3. Fill a large pot with lightly salted water and bring to a rolling boil; stir in vermicelli and return to a boil. Cook until vermicelli is tender yet firm to the bite, 2 to 4 minutes. Drain.
4. Fill a large shallow bowl with warm water.
5. Dip a rice wrapper into the warm water until softened, 3 to 5 seconds. Place rice wrapper on a work surface. Let the rice paper soften for about 30 seconds. Arrange pork, a prawn half, vermicelli noodles, cilantro, spring onions, mint leaves, and romaine lettuce on the bottom third of the wrapper; roll it up halfway, tuck in the sides, and finish rolling the rest of the way. Repeat with the remaining ingredients.
---
3. Banh Mi
Banh Mi is a type of meat filled sandwich on the Banh Mi bread that is prepared with wheat flour and rice flour. The typical fillings include steamed, oven roasted or even pan roasted season Vietnamese sausage, pork belly, grilled pork, grilled chicken, chicken floss, tomato sauce, fried eggs, and tofu. Accompanying vegetables include cilantro, fresh cucumber leaves, and pickled carrots. Banh Mi is popular in most restaurants in the Western cities.
Ingredients:
4 boneless pork loin chops, cut 1/4 inch thick
4 (7 inch) French bread baguettes, split lengthwise
4 teaspoons mayonnaise, or to taste
1 ounce chile sauce with garlic
1/4 cup fresh lime juice
1 small red onion, sliced into rings
1 medium cucumber, peeled and sliced lengthwise
2 tablespoons chopped fresh cilantro
salt and pepper to taste
Instructions:
1. Preheat the oven's broiler. Place the pork chops on a broiling pan and set under the broiler. Cook for about 5 minutes, turning once, or until browned on each side.
2. Open the French rolls and spread mayonnaise on the insides. Place one of the cooked pork chops into each roll. Spread chile sauce directly on the meat. Sprinkle with a little lime juice and top with slices of onion, cucumber, cilantro, salt, and pepper. Finish with another quick drizzle of lime juice.
---
4. Bahn Xeo
Also known as the sizzling cake, Bahn Xeo is a savory pancake that is prepared using water, rice flour, and turmeric powder. The pancakes are eaten wrapped in lettuce or mustard leaves or Bahn Trang wrappers, stuffed with mint leaves and then dipped in sour diluted fish sauce. The most popular place to get Bahn Xeo is the legendary restaurant Bahn Xeo.
Ingredients:
Crepes Batter
1 cup rice flour
1/2 teaspoon white sugar
1/2 teaspoon salt
1/4 teaspoon ground turmeric
1 cup coconut milk 1/2 cup water
Filling
2 tablespoons vegetable oil, divided, or as needed
2 tablespoons minced shallot
2 cloves garlic, minced, or more to taste
3/4 pound fresh shrimp, peeled and deveined
2 tablespoons fish sauce, or more to taste salt to taste
1 pound mung bean sprouts
Instructions:
1. Mix rice flour, sugar, 1/2 teaspoon salt, and turmeric together in a large bowl. Beat in coconut milk to make a thick batter. Slowly beat in water until batter is the consistency of a thin crepe batter.
2. Heat 1 1/2 tablespoon oil in a large skillet over medium-high heat. Add shallot and garlic; cook and stir until fragrant but not browning, 1 to 2 minutes. Add shrimp; saute until cooked through and opaque, 3 to 4 minutes. Season with fish sauce and salt. Transfer filling to a bowl.
3. Preheat oven to 200 degrees F (95 degrees C).
4. Wipe out skillet and reheat over medium heat. Add remaining 1 1/2 teaspoon oil. Stir crepe batter and pour 1/2 cup into the hot skillet, swirling to coat the bottom. Lay 3 or 4 of the cooked shrimp on the bottom half of the crepe. Top with a small handful of bean sprouts. Cook until batter looks set and edges start to brown, about 1 minute. Fold crepe over and slide onto an oven-safe plate.
5. Place crepe in the preheated oven to keep warm. Repeat with remaining batter and filling.
6. Serve lettuce leaves alongside filled crepes. Break off pieces of crepe and roll up in lettuce leaves to eat.
---
5. Bun Cha
This dish is the most inviting Vietnamese cuisines to try out in Hanoi. It is made up of square pork meat that is grilled on dry charcoal and is mostly taken with rice noodles and a side dish of dipping sauce. The dish originated and remains popular in Hanoi. An alternate similar dish of rice vermicelli and grilled meat is served in areas outside of Hanoi.
Ingredients:
Grilled Pork
500 g pork belly ( 1.1 lb) or pork shoulder, thinly sliced
500 g minced pork (1.1 lb)
1 tbsp sugar
4 tbsp minced shallot
2 tbsp oyster sauce (optional)
2 tbsp sugar
4 tbsp fish sauce
4 tbsp caramel sauce or 2 tbsp molasses/honey
2 tsp pork stock powder (eg. Knorr – this is optional)
1 tsp ground black pepper
**For the pickles**
1 cup kohlrabi/ green papaya thinly sliced into bite size pieces
1 cup carrots thinly sliced into bite size pieces
2 tsp salt
2 tbsp vinegar (5% acid)
1 tbsp sugar
Dipping Sauce
1/2 cup fish sauce
1/2 cup sugar
3 cup water
1 tbsp minced garlic
1 tbsp minced chili
Fresh greens: lettuce, mint, perilla, cilantro etc.
2 kg fresh rice vermicelli (or 1kg dried rice vermicelli)
Instructions:
1. To make the caramelized sauce: melt sugar in a heavy-bottom saucepan over medium heat until caramelized. Occasionally swirl the pan to avoid burning. Take off the heat. Using a long-handled ladle, add the hot water to the caramelized sugar. Be careful as it will splash.
2. Marinate the pork belly with half of the minced garlic, oyster sauce, sugar, fish sauce , minced shallot, caramelized sauce /molasses/honey, seasoning powder (optional), ground black pepper. Set aside for 30 minutes or a few hours in the refrigerator.
3. Marinate the minced pork similarly with the other half of the marinade ingredients. Pinch and form the minced pork into 2-inch (5cm) patties.
4. Grill the pork and minced pork patties outdoor on charcoal until both sides are golden brown.
5. To make the pickles, mix the thinly sliced kohlrabi/ green papaya and carrots with 2 tsp of salt. Set aside for 15 minutes. After that, rinse well and slightly squeeze out the excess water. In a large bowl, mix the kohlrabi and carrots with sugar and vinegar. Set aside for at least 1 hour so that the veggies can absorb the flavor.
6. To make the dipping sauce, in a medium saucepan over medium-low heat, dissolve sugar in fish sauce and water. Minced garlic and chili can be added to diners' preference during serving.
7. To assemble the dish, fill a medium serving bowl half-full with the dipping sauce. Then add some grilled pork, pickles, minced garlic and chili, and black pepper. Serve with a platter of fresh greens and cooked rice vermicelli noodles. To serve, dip a bit of vermicelli and fresh greens into the bowl and eat with the grilled pork and pickles.
---
6. Pho
This dish which is based on the country staple food has become the Vietnamese national dish. The noodle soup consists of linguine-shaped rice noodles, a few herbs, meat, and broth. The dish is primarily served with either chicken or beef flavored with ginger or coriander. The Southern Vietnamese eat pho for breakfast while the rest consume it at any time of the day.
Ingredients:
4 pounds bone-in beef shank
1 onion
5 slices fresh ginger root
1 pod star anise, whole
1 teaspoon salt
2 1/2 tablespoons fish sauce
1 (8 ounce) package dried rice noodles
1/2 pound cooked beef sirloin, thinly sliced
3 green onions, chopped
1 1/2 cups fresh bean sprouts
6 sprigs cilantro
Instructions:
1. In a large pot over medium heat, bring beef shank and 3 quarts water to a boil. Skim off foam. Reduce heat, cover and simmer 4 hours.
2. Preheat oven broiler. Place unpeeled whole onion under the broiler until soft. Remove and peel.
3. Stir onion, ginger, anise, salt and fish sauce into beef mixture.
4. Bring a large pot of lightly salted water to a boil. Add rice noodles and cook for 8 to 10 minutes or until al dente; drain.
5. Divide noodles into three serving bowls. Place cooked sirloin on top of pasta in bowls. Sprinkle green onions, bean sprouts and cilantro evenly in bowls. Strain beef broth and divide evenly between serving bowls, pouring over assembled ingredients. Serve at once.
---
7. Mi Quang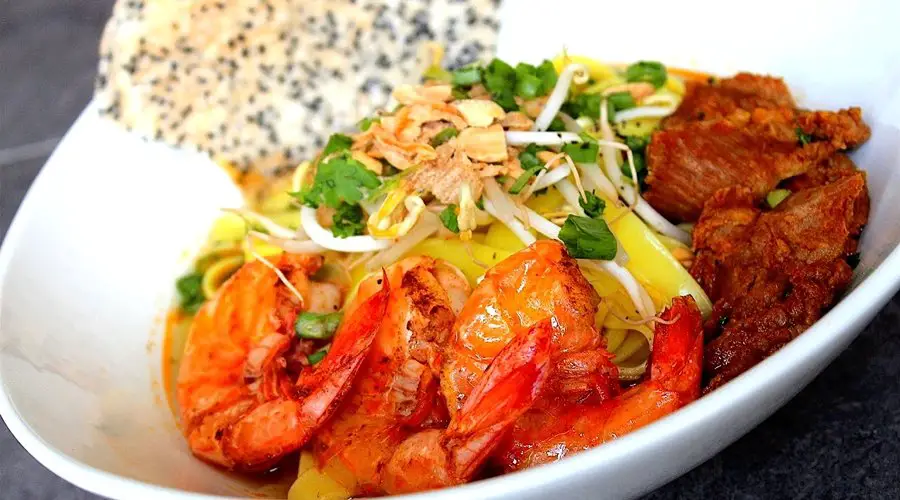 10 Best Vietnamese Dishes With Our Favorite Recipes – Mi Quang
The Vietnamese food or noodle originated from the region of Quang Nam Province.It is recognized nationally in Vietnam and is mainly served in family parties and served in most restaurants all around the country. It is prepared using yellow rice noodle with alkaline water to give a slippery texture. It features shrimp, chicken, pork and even beef or fish. Its broth is made from simmering meat in water; which is then added to the fish sauce, shallot, black pepper and garlic.
Ingredients:
Broth
2 lbs of pork neck bones or pork spare ribs (if you use spareribs to make the broth, have the butcher chop them into 2-inch pieces–so that you can also serve these melt off the bone ribs with the soup as well)
2-3 medium shallots, peeled
4 medium dried shrimp
Salt and Sugar to taste
Sauteed Pork and Shrimp
1 tbs of garlic
1 tbs of shallots
1/2 lb pork belly or a cut that has some fat and skin on
1/2 lb shrimp (shell on or off–your preference)
1/8 cup annatto seed oil
3 tablespoons of fish sauce
1 tbs paprika
salt to taste
pepper to taste
Tumeric Flavored Noodles
1 package of pre-made Mì Quảng noodles (Pre-packaged wide yellow rice noodles–if unavailable, see below)
1 package of wide pho rice noodles
2 tbs oil
1 tbs turmeric powder
Instructions:
1. Start first with the broth. Like most Vietnamese broths, it's a two-step process. First, you boil off the gunk in the bones and clean it and then with the cleaned bones you make the broth. In large stockpot place bones and enough water to cover the bones. Bring water to boil then pour over a colander, discarding the water and gunk. Clean the bones under running water and clean the pot (or have another pot with boiling water ready to go). Place bones back into the pot and add shallots and dried shrimp and fill with water to cover and simmer for about 2 hrs. Remove bones and season broth with salt and touch of sugar. If you're using spareribs, leave them in and serve as well.
2. Annatto seed oil imparts a beautiful red/orange color to the meat and shrimp. To make annatto seed oil, heat 1/8 cup of olive or vegetable oil in large wok or saute pan and add about 2 tbsp of annatto seeds. As the temperature rises, the red color will seep out of the annatto seeds. Strain and discard seeds. Using prepared oil, saute garlic, shallots, paprika, and pork. Half way through, add shrimp as this takes less time to cook. Season with salt and pepper to taste. Set aside, covered.
3. To save time you can buy it already made which uses food coloring. However, it's really simple to do it yourself. Bring a medium-sized pot of water to boil, add wide pho noodles, after about 3-4 minutes, add oil and turmeric powder, and stir. If too pale, add more turmeric to the desired color. The turmeric doesn't add that much flavor to the noodles and is more a visual thing. Noodles are done when you can easily bite a strand without it being too firm or mushy. Drain and set aside.
4. Putting it all together-In bowl, add noodles and the sauteed pork and shrimp. Then add the broth (to keep with tradition use little broth, abut 1/4-1/2 of the bowl). Add bean sprouts, mint, perilla leaves, banana blossom, cilantro, and green scallions. Top with toasted peanuts and black sesame rice crackers and enjoy.
---
8. Cha Ca
This seafood dish is among the standouts in Vietnamese cuisine. The origin of the dish is Hanoi. The dish is prepared by having the white fish sauteed in butter with spring onions and dill. It is then served with rice noodles and a scattering of peanuts.
Ingredients:
2 pounds, 4 ounces/ 1 kg ling fillets
8 spring onions ( scallions)
4 cloves garlic
1 tablespoon ground turmeric
2 teaspoons hot curry powder
2 tablespoons plain yogurt
4 ounces/125 ml fish sauce
3 tablespoons sugar
3 tablespoons vegetable oil
1 bunch fresh dill
4 1/2 ounces/ 125 g rice vermicelli, cooked
1 cup/ 250 ml fish stock
1 lemon
10 1/2 ounces/ 300 g bean sprouts
Instructions:
1. Cut the ling fillet into 1 1/2-inch/4 cm pieces, place in a bowl and set aside.
2. Put the white heads of the spring onions (reserving the stalks) and garlic in a mortar and pound to a paste. Add the turmeric, curry powder, yogurt, fish sauce, sugar, 2 tablespoons oil, and a 1/3 of the dill, roughly chopped, to the fish and mix well.
3. Cover and marinate in the refrigerator for 1 hour.
4. Thinly slice 4 of the green spring onion stalks.
5. Heat a large frying pan over medium heat, add the remaining oil, then fry the fish fillets on one side for 30 seconds.
6. Turn the fillets over, add the fish stock and simmer for 3 to 5 minutes, until the fish is cooked through. Remove the fish and squeeze over the juice from the lemon.
7. Mix the bean sprouts, sliced spring onion, remaining dill and vermicelli together.
8. Place into bowls and spoon over the fish fillets and sauce.
---
9. Nom Hua Chuoi
For vegetarians, Nom flavor chuoi is a great option. Chili and lime are the main flavors in this meal and add a unique flavor and refreshing punch to the shredded vegetables.
Ingredients:
1 young banana blossom(s) (you can also use white cabbage, red cabbage, kale)
2 cups ice water
1 tablespoons lime juice
1/4 papaya (or mango, shredded into thin slices)
1 onion, thinly chopped
1 carrot, cut or shredded in thin sticks
1/2 green bell pepper, thinly sliced
1 tablespoons long coriander (polygonum leaf) or ordinary coriander/cilantro
1 tablespoons Vietnamese mint leaves
2 tablespoons crushed peanuts, plus more for garnish
1 tablespoons shallots for garnish (crispy fried or fresh)
For the dressing:
1 tablespoons water
1 tablespoons agave or acacia honey or maple syrup
1 tablespoons soy sauce
1 tablespoons lime juice
1/2 teaspoons chopped garlic
1/2 teaspoons chopped shallots
1/2 teaspoons chopped red long chili (medium-spicy), plus more for garnish if desired
Instructions:
1. Place the layers of the banana blossom (or the cabbage leaves) on top of each other and roll them tightly together.
2. Slice very thinly into ribbons and place in a bowl of ice water and lime juice for about 20 minutes.
3. After 20 minutes, squeeze the blossom until dry and set aside.
4. Add all of the ingredients for the dressing in a small bowl and stir until dissolved.
5. Combine the banana blossom, papaya or mango, onion, carrot, green pepper, coriander, mint leaves and peanuts in a large bowl, add the dressing and toss until well blended.
6. Arrange the salad on a serving platter (or even better, on a thick green banana leaf) and sprinkle with the shallots, additional peanuts and red chili, to taste.
---
10. Com Tam
Com Tam is made from rice with fractured rice grains. The dish is mainly served in Southern Vietnam in a region known as Saigon. The dish is served with grilled pork and the bi, shredded pork mixed with cooked and shredded pork skin. The rice and meat are served with greens and pickled vegetables alongside prawn paste cake and grilled prawns.The simplicity of the Vietnamese dishes, and the slight variations by region, and the fresh ingredients will keep you always asking for more.
Ingredients:
Shredded Pork w/ Pork Skin
2 cups of Jasmine rice
150-250g Pork shoulder or Pork belly
100g of Pork Skin from Asian grocery
Pork Chops (Suờn) & Marinade
250g Pork Chops
1 tbsp Vegetable oil
1 tbsp diced garlic
1 tbsp soy sauce
1 tbsp honey
1 tbsp fish sauce
Rice
2 cups of Broken rice (or Jasmine rice)
Dipping Sauce (Nước Mắm Chấm)
1 tbsp vinegar
2-3 lemons or limes
5-6 tbsp fish sauce
3 tbsp sugar
2-3 cloves garlic
2-3 cups warm water
Fried Egg (Trứng)
2 tbsp vegetable oil
1-2 eggs
Vegetables
Instructions:
Shredded Pork w/ Pork Skin (Bì)
1. Clean pork & boil for 25 mins
2. Pan fry 1-2 cups of normal jasmine rice, until brown
3. Grind rice in grinder until powdery texture
4. Take pork out and let it rest
5. Slice pork into thin slices of about 1cm each
6. Finely slice the slices into strips of 2-3mm
7. Add pork skin into medium bowl (bought from Asian grocery)
8. Add powdered rice and mix well. Set aside once mixed
Pork Chops (Suờn)
1. Gently bash the chops with a mallet
2. Combine garlic, soy sauce, fish sauce, salt, pepper, sugar and vegetable oil. Mix well
3. Rub marinade well on both sides of the pork chops
4. Set aside for 30-45 mins or overnight for best results
5. In a frying pan, add 2 tbsp of vegetable oil, on medium to high heat
6. Once the oil is hot enough, fry pork chops until brown on one side. Turn over and fry until brown
7. Once brown, take the pork out and onto the plate to rest and dry off excess oil. Fry for longer to get in look and taste.
Rice
1. Add 2 cups of broken rice into rice cooker pot
2. Wash rice until water becomes almost clear
3. Put rice into rice cooker to cook
Pork Chops (Suờn)
1. In a frying pan, add 2 tbsp of vegetable oil, on medium to high heat
2. Once the oil is hot enough, fry pork chops until brown on one side. Turn over and fry until brown
3. Once brown, take the pork out and place it onto a plate to rest and dry off excess oil. Fry for longer to get a chili look and taste.
Dipping Sauce (Nước Mắm Chấm)
1. Combine lemon/lime juice, vinegar, sugar, and water in a medium sized bowl
2. Stir all together until sugar is dissolved
3. Taste to adjust flavors to balance sweet & sour according to taste preference
4. Add chili or diced garlic for extra flavor (optional)
Fried Egg (Trứng)
1. In a frying pan, add 2 tbsp of vegetable oil, on medium to high heat
2. With wooden chopsticks, test the oil to see if it's hot enough. Alternatively, use a wooden spatula. If the oil starts the bubble, then its ready to go
3. Crack an egg into the frying pan and fry to taste preference
Vegetables
1. Wash cucumber and tomato
2. Slice cucumber diagonally into long, even slices
3. Slice tomato into even slices
Serve & Presentation
1. Fluff cooked rice and compress into a small bowl
2. Turn rice bowl upside down onto the plate so it comes out in a nice shape
3. Add sliced cucumber and tomato onto the plate on the side
4. Take a piece of rested pork chop, cut three strips, leaving it intact with the bone.
5. Take 2 tbsp of the Shredded Pork with Pork Skin and add to plate, next to the mound of rice
6. From the frying pan, place the egg on top of the mound of rice
7. Put 2 tbsp of Nuoc Mam into a small bowl
8. Enjoy!
We hope you will be able to find yourself some day in Vietnam to sample everything on our list of 10 Best Vietnamese Dishes. If not, we have given you the best recipes we have found to make them at home. You may also be interested in our post about 3 Of Our Top Ho Chi Minh Restaurants.