Croatia offers an impressive number of romantic cities for some of the best Croatia honeymoon locations. It ranks in the top 10 countries which couples desire to visit.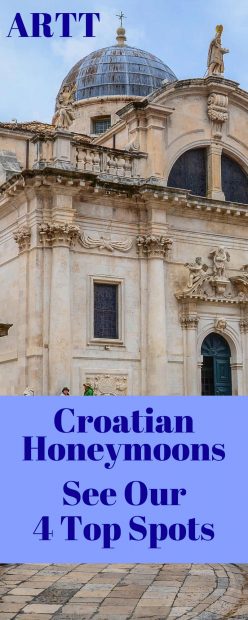 CURRENT GOVERNMENT INFORMATION
This is the verdict of The Huffington Post – based on google searches.
Not only is Croatia renowned for some of the most breathtaking, natural landscapes, it also offers a wonderful, picturesque, romantic glimpse into the past, with a long array of well preserved architectural pieces of ancient civilizations.
For new couples, there's quite an impressive number of Croatia honeymoon locations and cities.
We will touch on a few.
Zagreb
A historical city that dates back to the Roman Empire. Its cultural and historical past makes it a destination of choice, especially for a romantic honeymoon for partners who are students of history. There are enough archeological and medieval monuments to keep you enthralled and to also give you an ambiance that's perfect for your fantasies, that is if you'd love to imagine living in the medieval past.
Located in the northwest of the country, along a river called the Sava river, Croatia's capital and largest city, with a population of more than 1.2 million people, is located at an altitude of 400 ft above sea level.
Zagreb, Where Old Meets New
Zagreb as a city name was first recorded in 1094. It is a fine blend of the old and the new, strategically located at an intersection of the Mediterranean and Western Europe, it offers easy access to countries in that region if you'd like to explore Europe further.
Interesting Places To Visit In Zagreb
Besides the great nightlife, which is to be expected, the map of Zagreb highlights the best spots for … wait for this, … kissing, yes. How so romantic, to know spots that have been identified by previous tourists as the best kissing spots.
• Visit The Upper town, where gas street lamps still glow in the night, these lamps are still hand lit every single evening. And if funiculars are a distant memory to you, you will find them in Zagreb, with operations dating back since 1893.
• This historical, old town has lots of parks and offers opportunities for unforgettable romantic walks, with lots of cafes and beautiful terraces.
• For the night crawlers, Zagreb offers some of the best nightlife, generously spiced with some amazingly unique street festivals.
Prepare And Bring Along Your To-Do List
A Croatia Honeymoon Locations list would be unfair to you and your partner's honeymoon if you don't plan ahead on how to optimize your visit because there's so much to see and do. I'll give you a quick rundown.
♡ A funicular ride is a must, and it's cheap, as it connects Down and Upper town Zagreb, though the trip is a few minutes long. Upper Town is located on a small hill with a great romantic ambiance.
♡ With so many beautiful parks and forests, your Croatia honeymoon is incomplete without a picnic in one of these
♡ Visit the Museum Of Broken Relationships. A museum dedicated to the pains of broken relationships will definitely spice up your honeymoon and strengthen your relationship
♡ Breakfast at the Kava Tava. This features paper mats, the favorite spots for kissing in Zagreb.
♡ Other Croatia honeymoon locations in Zagreb include Dolan, Zagreb green market for souvenirs at a bargain, a walk along the Sava river banks, a day at Lake Jarun, and a visit to the lovely little town of Samobor.
♡ When done, you can cool off with some delicious ice creams. The best ice creams in Croatia are in Zagreb
Best Hotels For Croatia Honeymoon
Where to Stay in Zagreb, Croatia
---
Reasons to Visit: Old Town, History and Architecture
Here is a list of 3 top-rated, affordable properties in Zabreb that are close to Old Town/City Center.
Click on the hotel photos or hotel name, and check them out for yourself!



A Love-Shaped City, Galesnjak
Any Croatia honeymoon locations list without Galesnjak is incomplete. Famous since highlighted by Google Earth in 2009, its heart-shaped form has since become a hit and a destination of choice for lovers. It's easy to understand the myth associated with this wonderful, heart-shaped Island. The best way to arrive this city is obviously through the sky. The memories of the view will make your honeymoon unforgettable.
Though not much is on the ground by way of amenities, still this lovers' Island is a choice destination to visit on your Croatia Honeymoon. The waters around this heart-shaped Island could, of course, be better, but it's emerald-blue waters are clear enough for you and your partner to take a dip in the ocean with pebble beach. As there are yet any hotels, to stay overnight, you have two options, camping or to stay in Pasman, another popular tourist destination. This city is a must visit on your Croatia honeymoon, especially if you want that mythical romantic twist.
The Island of Pasman
Pasman Island (pronounced Pash-man) is another island located south of Zadar. On the whole island, there are about dozen villages and hamlets. The island was originally inhabited since the Roman times.
Pasman Island is Easy to Reach
Due to its beautiful nature and attractive landscapes as well as the frequent ferry connections and handy bridge to the mainland, Pasman is popular summer honeymoon destination for foreign as well as local visitors. The island is also a great place to visit in spring or autumn for cycling or walking trips as there are plenty of cycling and walking routes on the island. Due to the sea current constantly changing (every six hours) its waters are considered to be among the cleanest waters in Adriatic.
Staying on Pasman Island
You can use Pasman Island as your starting point for visiting the many islands in the area. The island has just over 2000 permanent residents. Many of the residents of Pasman have traditionally offered accommodation in private rooms and apartments in their houses. There is also a camping site on the island – Camping Arboretum – a lovely family run campsite located in the village of Barotul – a small fisherman's village surrounded by olive trees with its own bay and sandy beach. Great for honeymoons.
The City Of Zadar
Ravaged by a war which lasted from 1991 to 1995, the impact of that war is evident around its surrounding villages. However, over the past 10 years, increasing infrastructural developments has pushed this coastline city, located in the northern Dalmatia, up on our list of top Croatia honeymoon locations. And due to its proximity to the Lovers Island of Galesnjak (as stated earlier), it deserves to be on this list.
Best Time To Visit Zadar
Summer offers the best value for money for those who decide to visit Zadar because there are enough low-cost flights into the city's airport. You can also catch up on more than enough events and festivals. The beautiful summer weather also gives you and your partner enough opportunities to explore the coastline and several smaller islands this city has to offer.
Swimming In Zadar
There are nice beautiful beaches in the surrounding towns (you and your partner may not find Zadar beaches as clear enough), especially the most popular one on the nearby island of Dugi Otok, the sandy beach of Sarahun or the Lojenka swimming bay on the Levranka islet.
Food And Accommodation In Zadar
If you are wild about seafood, you would love this city, with fresh supplies from the Adriatic. There is sheep cheese and mutton, gotten from excellent lamb from surrounding mountains. Vegetarians aren't left out, as there's constant supply of veggies from inland villages.
There are a few hotels to offer, and summer is the best time to visit. NOTE: You may decide to avoid visiting in the month of August, as this is when the cost of hotel accommodations are highest. You and your partner may also choose to camp at the most popular campsite at Zaton, a village, 10.5 miles North of Zadar.
Where to Stay in Zadar, Croatia
---
Reasons to Visit: Old Town, History and Architecture
Here is a list of 3 top-rated, affordable properties in Zadar that are in Old Town.
Click on the hotel photos or hotel name, and check them out for yourself!