Stress eats up most of our energy and makes us physically and mentally weak. Without sufficient energy, you cannot complete daily tasks effectively. High levels of energy are needed to relieve stress and keep it at bay. High levels of energy are very essential as they help in maintaining a cheerful attitude.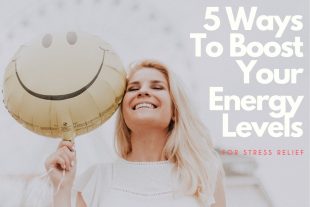 HERE ARE SOME 
OPTIONS TO BOOST YOUR ENERGY LEVELS FOR STRESS RELIEF:
Stress leads to fatigue and anxiety. It drains us of our energy and makes generates a disinterest in us. One of the effective ways of boosting energy levels is to eat the right quality and quantity of food, which are rich in nutrients. Food is the main source of our energy and if we want to boost our energy levels then we should eat healthy food. There are plenty of healthy foodstuffs that can impart the necessary energy to your body.

 
Another effective way of boosting your energy levels is to indulge in regular exercises like swimming and cycling. Most feel that exercising is an outlet of our energy but in reality; it helps in re-energizing us and infuses enthusiasm in us. Exercises lead in proper circulation of the oxygen and blood in the body. 

 
Treating yourself to a massage or visiting a spa can also boost your energy levels. A massage or steam relax all your muscles and produce energy in us. You can head for a spa whenever you feel stressed and get re-energized and rejuvenated. Aromatherapy can also be used to increase your energy levels and it proves to be a great experience.

 
Stress affects our regular patterns of sleep leading to a sudden loss of sleep. Sufficient sleep is very essential for being recharged to take on the host of activities that lie ahead of you. You should get a sound sleep as during sleep all your entire body is in a relaxed state. When you wake up you are filled with fresh energy and vigor with no traces of stress.

 
You also have to make sure that you drink plenty of water that keeps you energized. There are plenty of vitamin tablets and healthy energy drinks available in the market. You can resort to these tablets if you feel extremely low on energy. However, make sure that you take the right tablets after consulting your doctor.

 
Energy is the main factor that either controls or leads to stress depending upon the levels of intensity. So make sure that you are always full of energy and maintain a healthy lifestyle. 
We recommend you start with Yoga! Learn all the basics and how they can benefit your body here.