Exercises to Lose Muffin Top Fast. While we love to eat a good hot muffin with melted butter, there is a horrific tradeoff. They are one of the causes that, unfortunately, create the dreaded "muffin top". Everyone knows the muffin top is that little or big roll that sticks up above your low riding pants but, not everyone knows how to get rid of them. The muffin top is a bane to the low cut jeans women love to wear. the key is to burn fat along with the exercise. We will cover both topics in this article.
Daily Exercises to Lose Muffin Top Fast
Exercising daily helps women to burn fat. If you consider yourself fat, you will need to exercise regularly. Which exercises work the best? This is the question all women ask. You can ride a stationary bike or go cycling daily. You can go swimming, try skipping, use a treadmill, etc. They are all effective to shed weight.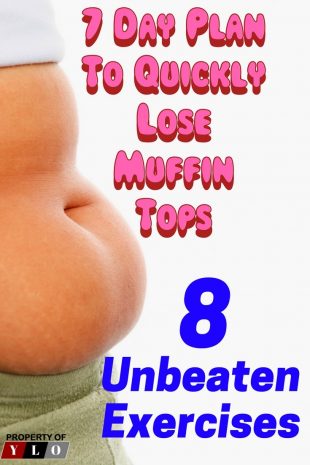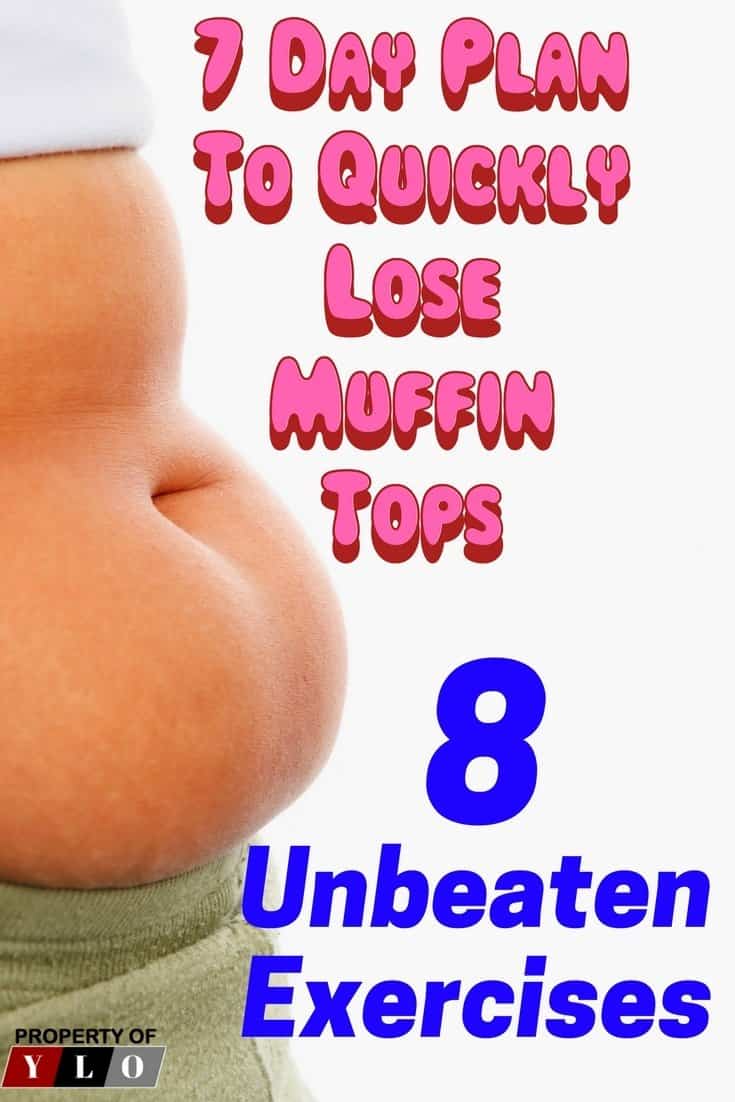 You should walk, jog, or run daily in the morning. Doing this in the morning, you will benefit in two ways. You will get enough fresh air so that you will feel fresh, and you will also shed the pounds.
To effectively lose weight and burn fat, you must also incorporate all of the basic principles here: drinking plenty of water, getting 7-9 hours of sleep every night, use cardio and weight training exercising, and proper nutrition.
Many people think crunches and lots of them cure the problem of "Muffin Top" but, that is not necessarily true. You need other exercises to work in conjunction to sculpt that body back to where you want it to be.
So how are we going to get back in those super hot lowriders? If you are sporting a muffin top, here is how to rid yourself of it fast. We'll start with the exercising.
Beginner Fat Burning Workout to Lose Weight in 4 weeks (Home Exercises)
Harvard Health: Major fat-burning discovery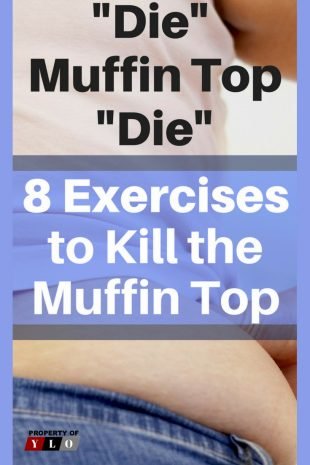 8 Exercises to Lose Muffin Top Fast
This is the number one MT killer, it tones your entire core from the obliques, lower abs and even gives you a butt lift.
Lie flat on your back on the floor with feet flat and knees bent. Raise your but from the floor until you get to a plank position then hold for 20 to 30 seconds. Do a minimum of 10.
What a strange name for an exercise but this one does it all. The number 1 kill of all muffin top exercises. Tone the obliques and get the results.
Get on the floor on your need with your back straight and crunch your abs. Straighten one leg to the side and bend at the waist to the same side. Back up and repeat to the other side. Do 20 Dips to each side.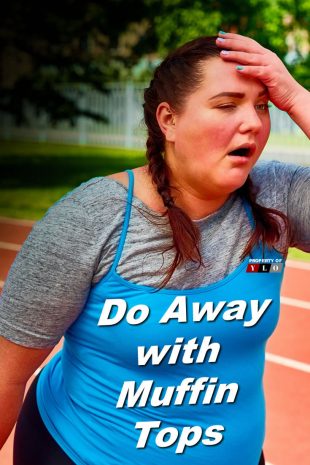 The twist is the "Jack the Giant Killer" of muffin tops. Do it with or without weights as your fitness level allows.
Sit on the floor with been knees and feet flat. Lean as far back as possible and clasp both hands behind your neck. Rotate your hands and torso from side to side 20 twists each way. Add weight to your hands as your conditioning increases.
This is an ab and everything else exercise.
Lie on the floor with feet flat and knees bent. Raise up from the floor until you reach a plank position. Move your hips from side to side. Do 15 moves to each side before returning your back to the ground.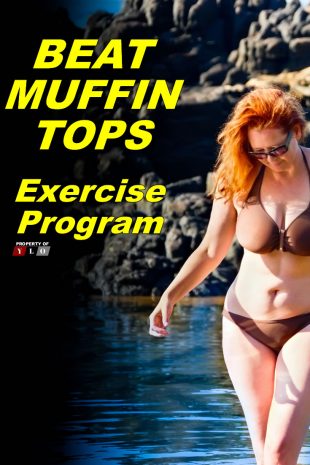 The hip dips will rebuild your waistline, even if you don't remember it.
Move to a plank position then lower to the floor with your right forearm. Roll to the side and stack your legs on top of each other. Dip your hips to the floor, come back to plank and do the same on the alternate side. Do a series of 10 per side.
These are best workouts for the abs and to kill the belly fat that causes the muffin top.
Lie flat and lift the knees toward your torso. Place both hands behind your neck. Move the right knee to the left elbow the repeat left knee to right elbow. Do 20 touches on each elbow.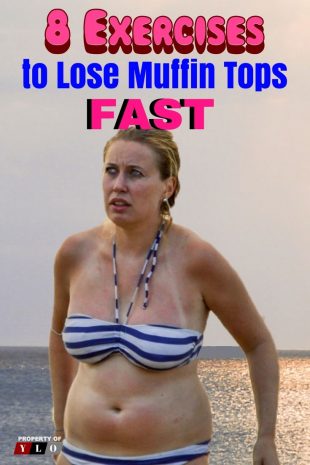 Great for the side obliques and core.
Move to a forearm plank, twist your hip to the right or left until it touches the floor then repeat to the other side. Do 20 touches per side.
This a variation of the traditional Yoga Plan. It tones the core and since you are moving it provides great cardio as well.
Move to a standard plank position. Keep your arms tight and aligned under your shoulders. Roll to one side the return to the original position. Roll to the other side and keep alternating for a minimum of 10 rolls to each side.
The best way to burn fats is something every woman asks at some point during our lifelong battle to lose weight and keep it off. Everything from eating crazy diet food that tastes like cardboard to wrapping our thighs and tummy up with plastic wraps and suck the fat out. All these and more is eventually is considered when you're desperate!
But you certainly don't want to risk your long-term health and happiness by resorting to hazardous diet pills or other extreme methods as a way to lose weight. It's just not worth the risk, and most of the time the only part of you that loses weight is your wallet anyway!
Currently, women are using a variety of ways to burn fat, indicating that these ways are a useful tool for rapid weight loss. Each fat burner is different, based on the components, the common one among women determines which fat burners are the top sellers.
Green Tea Extract is one of the top fat burners for women. It originates from China and has been used there for thousands of years. Green tea has other benefits too, like anti-inflammatory properties and it can just give you that extra energy that you have been lacking.
Using protein shakes strategically as mini-meals and snacks
Not only are protein shakes good as mini-meals, they're awesome. Use one scoop or about 25 grams of protein and use the protein shake as a big snack or small meal. This will keep your energy levels stable and feed your muscles.
Ritual Multivitamins For Women
Essential for Women was expertly developed to be the only daily vitamin you need — delivered right to your doorstep. From D3 to Omega-3, their scientists have identified the nutrients most women aren't getting enough of. Nothing more, nothing less.
Weight Loss Supplements
Supplements are a good choice for women because they have natural fat burner qualities. The appetite suppressants are available will assist you to regulate your food intake. If you want a supplement which is suitable for women, Slim U is a good choice. Its ingredients go a long way in helping a woman lose weight, even without heavy workouts or strenuous diets.
Fat Burners
CLA Safflower Oil – This is a great Fat Burner that works best when taken after you exercise.
---
---
Click On The Images To View A Few Similar Posts