I longed to cross Dubrovnik off my bucket list, and I finally did so early this year. However, the best area to stay in Dubrovnik when you are on a budget is NOT Old Town.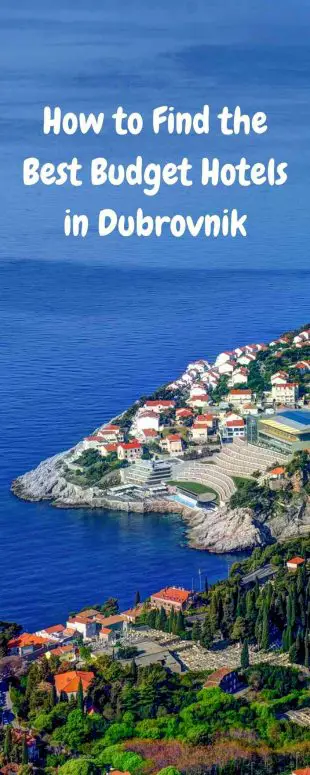 Old Town
Between the anxiety of planning an international trip and the stress of putting everything at work in order before my trip, I didn't have time to research widely about accommodation options.
When I got there, I found out there were better options than what I had originally booked as the most budget-friendly deal.
I should have looked up alternatives on the best area to stay in Dubrovnik not just a general search for the cheapest hotel in the Old Town area of the city.
There's more to Dubrovnik than just the Old Town as far as accommodation for budget travelers is concerned. Sure staying in the Old Town area is great and you are in the mix of everything. The one drawback is that accommodations are high and the food is even higher in that area.
Here's a comprehensive look at the most affordable places to stay — Including Old Town.
Gruz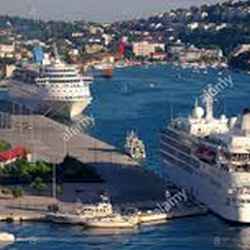 Gruz is the hub for all travel and tourist networks in Dubrovnik. Whether it's a cruise ship, a ferry or a bus, Gruz is by far the main entry point to all of the city. It houses the city's main harbor. Boats exploring nearby islands, such as Mljet Island, depart from Gruz. Gruz is the best area to stay in Dubrovnik for budget travelers because of its proximity to both Old Town and to other attractions such as the islands. It takes about 15 minutes by bus from Gruz to Old Town. Four bus routes serve this suburb. Apart from exploring historic buildings in Old Town, you will spend more time on the beach or on the islands. Staying in Gruz reduces transport cost considerably. Like everything else, taxis are extremely expensive and the less you use them the better off you will be financially. Moreover, you will spend less on food because the neighborhood houses the city's fresh produce market.
I discovered this neighborhood when passing through from Old Town for a boat trip to Elaphiti. There are some lavish vacation mansions, probably from several centuries ago located this suburb. It began as an industrial center, and then a very high-end residential area.
Budget travelers have a range of bed and breakfast villas, apartments and guesthouses spread out throughout Gruz. The average cost of budget two and three-star hotels in Gruz is between $20 and $60. Some of them are close to Old Town while others are on the way to Franjo Tudjman Bridge. Whether you want to be close to the Obala Stjepana Radica Highway heading to the Port or Jadranska Cesta, there are plenty of budget hotels.
Gorica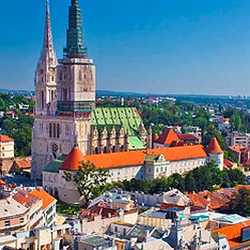 It takes about 10 minutes from Old Town to Gorica by bus. The buses serving this area are Bus 2 and Bus 4. Gorica is the best area to stay in Dubrovnik if you want to cut down on transport costs while exploring Old Town. Just book a budget hotel within the neighborhood, and take a leisurely 10-15 minutes' walk whenever you want to explore Old Town. Nevertheless, you don't have to go anywhere if you only visited Croatia for its beaches because Gorica offers you some of the best beaches near the city. The neighborhood enjoys great sea views, and you can head to Beach Bellevue for some fun on the seashore.
Budget apartments and guesthouse are well distributed in Gorica. You can stay near the Iva Vojnovica Street heading to Lapad or further away along Leichetensteinov Put.
Lapad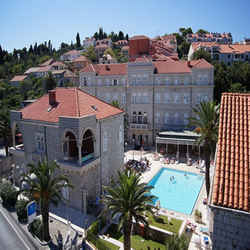 Lapad is also a residential neighborhood like Gruz. It takes about 15 minutes from Lapad to Old Town by bus. It wasn't difficult for me to get back to Old Town after a day exploring Lapad Bay. Some roads in the neighborhood are for pedestrians only, and this makes it easy to hop from a restaurant/bar to the other. The beach extends for miles. No matter where you sleep, you can always find yourself on the gravel and sand coastline in a few minutes.
What makes Lapad even more interesting is its variety of budget hotels close to various locations you will want to visit. For example, you can get a budget hotel near the bus terminal to Old Town, or close to the beach. If you are contemplating how much to spend on accommodation, Lapad is the best area to stay in Dubrovnik because you can choose from a variety of four to two-star hotels. You will be able to find the best fit for any budget. My idea of a budget hotel might be a two-star hotel while yours is a three star.
A decent room in Lapad can go for as low as $30 a night. Such affordable apartments and guesthouses are along the Kralja Tomislava Highway connecting Lapad to Babin Kuk and Gorica. Sadly, the cheap hotels are not close to the sea or the beach. Most of these affordable accommodation options are inland except for a few hotels along Masarykov Put Street overlooking the beach.
Babin Kuk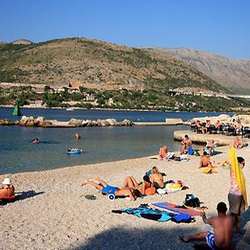 Babin Kuk is a lush neighborhood with expansive greenery. Families should consider it as the best area to stay in Dubrovnik because of its variety of family-friendly hotels. It also boasts of the largest beach in the city. This is what drew me to the neighborhood. Around evening, I had a walk along the edge of the peninsula and got back to Old Town by bus. I didn't find much to do beyond the beach though. It is not exclusive to budget travelers because accommodation is available at different rates. Nevertheless, there are three-star hotels and a variety of guesthouses for budget seekers, and access to the beach.
Most of the cheap hotels in this neighborhood are on the border with Lapad. You can pay between $40 and $90 per night for a two or three-star hotel. You can spot such apartments and guesthouses along Primorska, Klisevska and Kardinala Stepinca streets.
My Final Choice
Overall, the alluring Old Town and its historic buildings entice many budget travelers to stay close to this attraction and they forget to compare rates with other neighborhoods further away. I had booked a three days' stay in Old Town which turned out a bad choice. I explored as far as the harbor and the Old Town. In those three days, afterward, I found a budget-friendly three-star hotel in Lapad close to the beach. I checked in, and enjoyed daily sea views for the rest of my two weeks' vacation. That's how I found the best area to stay in Dubrovnik.
There are many options outside of the old town area but if you have the extra money then there are also great hotels in the area as well as very reasonable AirBNB apartments. Be aware of the terrain in the old city. The town is more or less a large bowl with steep sides to climb up to get to the top. There are two ways into the bowl without going down the steep stairs. However, if you choose to stay in the Old Town then it is a thing to consider and I would not recommend it unless you are very good at climbing hundreds of steep uneven steps.