Brac Croatia and Dubrovnik are both stars in Croatian tourism and if you are wondering which is the best between the two, Dubrovnik probably takes the crown.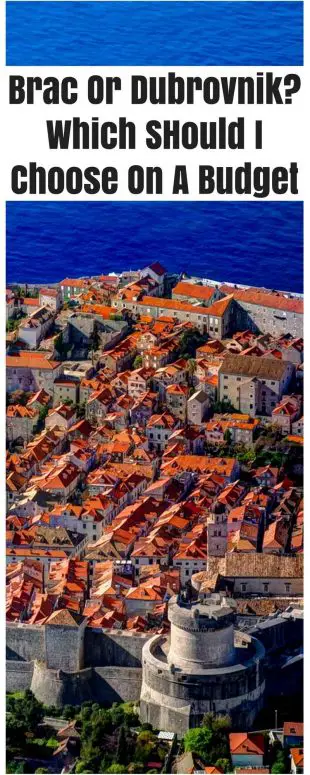 Brac Croatia vs Dubrovnik Croatia Locations
Brac is a Croatian island found in the Adriatic Sea and its best known for its white pebbled beaches while Dubrovnik is a city in southern part of Croatia that fronts the Adriatic Sea. It has a distinctive Old Town and is one of the most prominent tourist destinations in the Mediterranean Sea if not the entire world. Dubrovnik is not an easy place to quantify. Unlike many tourist destinations in Croatia, this city has so many landmarks, restaurants and dozens of places where you can explore. It offers an ethereal experience that cannot be only felt, it can also be touched. The one problem is it is the most expensive place that I have visited in any Eastern European country. There are options for this and you can read about them in our other articles but, beware of staying in or near the Old Town area. This is also due in part to the fame that the series Game of Thrones having a great deal of their episodes film in the Old Town section.
The city of Dubrovnik is located along the Adriatic Sea and it has always benefited from its seaside position. A lot of Croatia's wealth today comes through this port city from millions of tourists alighting from the giant cruise ships. Its location on the Adriatic Sea coastline makes it the perfect place to explore the rest of the sea's coastline. You might also consider other options along the coast like Split. This smaller city also has a great Old Town and is much more reasonable in terms of value for your dollar. As a tourist, you can either take a trip inside the city which has well-maintained roads and well-connected transport network system. You might also take a boat or a ferry ride to the sea and explore the sea or engage in some sea sports.
Ease of Getting Around: Brac Croatia vs Dubrovnik
Brac Croatia is an island with only one airport and getting around is usually very difficult. There are buses but they don't cover the whole island and that means you have to do a lot of walking while exploring some parts of the island.
Walking through Dubrovnik is like walking through a fairytale town. The city is one of the few medieval-walled cities remaining worldwide and walking through it feels like walking through time. The huge stone buildings, the unique imposing gates, and the beautiful historical artifacts are all impressive. This ancient city was founded in the 7th century and it had a prominent geopolitical role in the 15th and 16th centuries thanks to its immense wealth and incredible diplomatic skills. Through centuries of existence, Dubrovnik has become a magical, imposing and fairytale city that is adept at welcoming and hosting tourists. It's a magical tangible place that looks more than Hollywood and that is even why Game of Thrones has its shoot location here.
Cultural History: Brac Croatia vs Dubrovnik
Are you looking for a place to soak up some culture? Then Dubrovnik Croatia is the right place. Although both Dubrovnik and Brac Croatia are historical towns that are rich in culture, Dubrovnik serves the most authentic culture. Brac Croatia has very little cultural activities and places since the occupation of its main inhabitants are cattle herding and fishing. However, Dubrovnik is an artist's stage that stands between the traditional walls. It is a city of theatres and arts with hundreds of festivals and arts performances being held here annually. In terms of architectural heritage, Dubrovnik has traditional rural settlements, protected historical buildings, ancient churches, monasteries and old fortifications. Also, the UNESCO World Heritage has listed Dubrovnik as a cultural destination because of its landscapes that are filled with cultural treasures.
Where to Stay in Brac, Croatia
---
Reasons to Visit: Brac Island – Beaches, the Oceanside, Relaxation
Landmarks: Zlatni Rat Beach, Dominican Monastery, Catamaran Terminal
Here is a list of 3 top-rated, affordable properties in Bol on Brac Island that are close to the City Center.
Click on the hotel photos or hotel name, and check them out for yourself!



Foods & Accommodations: Brac Croatia vs Dubrovnik
Brac Croatia is an island while Dubrovnik Croatia is a city port and although they both serve the fabulous Croatian foods thanks to an easy access to fresh sea-food; Dubrovnik serves the tastiest, mouthwatering dishes. There are many international hotels in Dubrovnik compared to Brac and therefore you are most likely to find different types of food from the various cuisines cooked by renowned chefs. Finding accommodation in Dubrovnik is also a lot easier and cheaper because of the big number of hotels, villas, cottages and other holiday rentals.
Activities: Brac Croatia vs Dubrovnik
Brac Croatia has a lot of beaches because of its location on an island but it has limited tourist attraction sites. The main outdoor activities are usually water activities such as swimming, boat riding, surfing, diving trips, snorkeling and speedboat excursions. In Dubrovnik, Croatia, there are unlimited outdoor activities that you can engage in. You can go and sightsee the ancient churches and monasteries, boat riding, road trips, cultural explorations, visit the museums and national parks, take a day trip across the border and visit the neighboring countries without the hassle of having to plan your details, participate in the summer festival activities among others. This lively cultural city has so many sites that will enticingly beckon you outdoors to the sun-filled picturesque streets.
Where to Stay in Dubrovnik, Croatia
---
Reasons to Visit: Dubrovnik: Old Town, City Walls, History, Cuisine
Landmarks: Kings's landing, Adriatic Sea, Sightseeing
Here is a list of 3 top-rated, affordable properties in Dubrovnik that are inside Old Town.
Click on the hotel photos or hotel name, and check them out for yourself!



Nightlife: Brac Croatia vs Dubrovnik
While Dubrovnik Croatia has a lively nightlife, Brac Croatia has a less engaging nightlife. In Brac, the number of hotels, restaurants, and bars are very few and also some parts of the island don't have a good transport network which makes even going out at night very difficult. Also since its origins, life on the Brac Island is based on fishing and agriculture and even the natives prefer to relax indoors at night. When the sun sets in Dubrovnik, an entirely new ambiance fills the city. The nightlife in Dubrovnik is completely different from what is experienced in the rest of Croatia. Young residents mix and mingle with the tourists in the trendy clubs and cozy bars that are open 24/7. With darkness, the narrow streets in this old town now become the source of laughter, romance, clamor, and music. You can feel a truly international atmosphere throughout the city with classical live music performances while the bars, pubs, lounges, clubs, and casinos throb with life. There are open-air theater performances by renowned performing artists. Most of the bars, clubs, and lounges are open throughout the night and if you are looking for a place where you can party and mingle with new people, then Dubrovnik is the place to be.
"May I Have The Envelope, Please"
Between Brac Croatia and Dubrovnik Croatia, the latter is indeed a gorgeous place with the most to offer. From the marina, the trendy shops, nightlife, historical buildings to the traditional markets, there is nothing that lacks in Dubrovnik. For foodies, the contemporary sushi bars and the traditional seafood taverns in addition to gelaterias and cafes satisfy every taste. It has the best value options when it comes to accommodation whether you are on a budgeted short term or long term vacation There is no denying that Dubrovnik is Croatia's crowning glory, it is truly a stunner. When it comes to choice it comes down to what you are looking for on your vacation. Hustle and bustle or a quieter more relaxed atmosphere. I guess the best alternative would be to spend time in both with a short visit to Split as well.