Are you dreaming about your next destination, with that perfect sun-kissed beach where you can lounge for hours and hours. Then look at Croatia Resorts. Places to chase your worries away, and with towns that tell stories of mighty empires, kingdoms, and republics.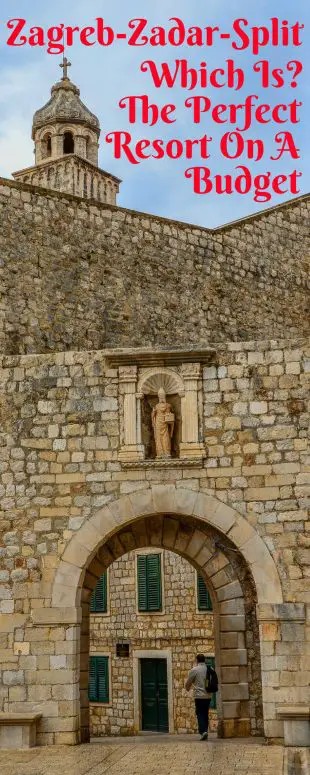 Croatia boasts an extraordinary coastline with clear blue water and wonderful beaches. Croatia can also provide you with picturesque mountain views, lakes, waterfalls, and canyons. Croatia's rich history and culture have flourished in the times when Croatia was at the edge of becoming one of the great empires. Croatia is a dream come true, a tourist heaven.
We're sure you've heard about Dubrovnik and the fact that Croatia resorts can be quite expensive. Now you're wondering about and which should I choose on a Budget.
As with any popular destination, some cities Croatia can be expensive, but there are other great options and those can be very affordable.
Dare to be different and explore the less traveled parts of Croatia These options can both save you some money and offer you more authenticity than in the usual Croatia resorts like Dubrovnik. There are quite a few options out there for those who want to enjoy a few days in Croatia resorts on a budget.
You don't have to be a millionaire to enjoy the perfect beach on the lovely coastline of Croatia or party every single night of your vacation in a city that quite a lot like Dubrovnik.
Meet Split, Zadar, and Zagreb. They're often overlooked, but they've got a lot to offer. They're a lot cheaper for more amenities and for sure a have a lot fewer people.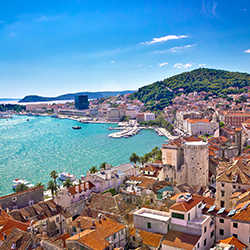 Croatia Resorts in Split – A Wonderful Blend of Ancient and Modern
The second-largest city of Croatia and the largest in Dalmatia, one of the four historical regions of Croatia, Split is a great balanced mix of ancient and modern. From Diocletian's Palace and the story-telling walls of this old city to the animated nightlife, bars, and restaurants that are buzzing with life. Split is a destination not to be missed and is also considered one of the best of the Croatia resorts. Its location is perfect, between the Adriatic Sea and the mountains, Split has it all. Looking for alluring beaches – try Bacvice beach, some of the most impressive Roman ruins in the world – don't miss Diocletian's palace which is a mini city in itself. Looking for fancy cafes, bustling nightclubs. Head on to the Riva waterfront promenade for that. If you are searching for authentic Mediterranean food look for that type of spot in the streets to the west of the palace, near the Varos neighborhood. Split is definitely a good answer to your question. 'Which Croatia Resort Should I Choose on a Budget?'
Where to Stay in Split, Croatia – City Center Area
---
Reasons to Visit: Old Town, History and Architecture
Here is a list of 3 top-rated, affordable properties in Split that are in the City Center.
Click on the hotel photos or hotel name, and check them out for yourself!
i



Why Split?
Being located in the middle of Croatia's coastline, Split makes it a lot easier than Dubrovnik to see more of the country. Split also has better international flight connections, with a good number of low-cost European airlines that fly there. Another reason is the problem with overcrowding in much of Croatia during the summer months. We all want to go on a summer vacation, right? Since Dubrovnik is the top choice for many out of all Croatia resorts, it suffers a lot when it comes down to overcrowding. Split, on the other hand, is much much better. We've got one more reason for the fans of Game of Thrones. Dubrovnik was not the only filming location in Croatia. You should know that one of the filming locations was the Diocletian's Palace, which makes Split even more memorable. As far as prices go, a day on a budget, including accommodation, a good average is 400kn, which means around 50 Euros for a couple, so it's quite affordable.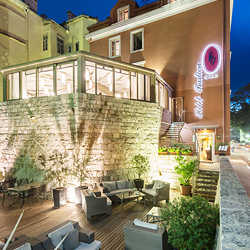 Croatia Resorts in Zadar – The Ancient Capital of Dalmatia
A little bit more up North from Split lies the city of Zadar, the ancient capital of Dalmatia. The city is unique and thought-provoking, a fascinating experience that is for sure an out of the ordinary of your normal tourist destination. It's a more off-the-beaten-path destination, especially if you think of all the small islands around, sometimes called the Zadar archipelago. One of Dalmatia's most vibrant and alive cities, Zadar lies on a beautiful peninsula and it's home to two exceptional and incredible attractions: the Sun Salutation and the Sea Organ, both designed by the local architect Nikola Basic.
The Sea Organ is a perforated stone stairway descending into the sea with a system of underwater pipes which produce soft soothing sounds when the sea pushes air through them. The Sun Salutation is a companion of the Sea Organ, a huge disk that collects solar energy during daytime and radiates hypnotic colored lights at night. Perfect for some very relaxing moments both during the day and at night. While Zadar and its historic center went through a lot of diversity during its recent history, from the Allied bombings in the Second World War to the 1991 Yugoslav attacks. The 2000's have had a surprising cultural and renaissance revival. That's why it's another wonderful answer to your Croatia Resorts question. 'Which Croatia Resort Should I Choose on a Budget?'
Where to Stay in Zadar, Croatia – Old Town Area
---
Reasons to Visit: Old Town, History and Architecture
Here is a list of 3 top-rated, affordable properties in Zadar that are in Old Town.
Click on the hotel photos or hotel name, and check them out for yourself!



Why Zadar?
Because it's close to four national parks: Plitvice Lakes, Krka Waterfalls, Paklenica and Northern Velebit, if you feel like taking a walk in nature. What's more, you can have a boat trip to the Kornati Islands National Park. Plus all the other islands around in the archipelago if that isn't enough. Zadar is a key transport center with very good ferry connections to the surrounding islands. Besides that, there are several small towns in the surroundings that are worth visiting. Another reason is its central location and the international airport which both offer many options. When it comes to money, we can tell you that it's cheaper than Split, which is cheaper than Dubrovnik so it's worth considering.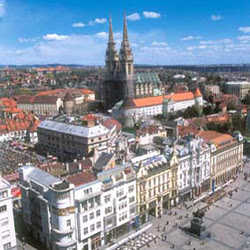 Croatia Resorts in Zagreb – the City of Museums
The capital and the largest city of Croatia, Zagreb is our third answer for your question about Croatia Resorts. Should I Choose Though it's not situated on the coastline, but deep inside the mainland, in the northwest of the country. This city is often ignored by most tourists visiting Croatia. Zagreb is rich with culture and history, boasting arts and music, interesting architecture and delicious local food. These combined with many other things make it an extraordinary choice for a getaway. Often called the city of museums, for it does have many of them, Zagreb has a lot to offer. You can start at the Katpol, the city's origins, and stroll the streets looking for alternative music venues and discover the town's many other offers as well. Make sure you don't miss "the belly of Zagreb", as locals call it, to get a taste of the delicious local foods. Be sure that you do not forget to check Radiceva Street for some fashion. The Tkalciceva street in the evening is a fun place to check out. It offers a pedestrian-only promenade full of boutiques, restaurants, and bars. Whatever your wishes, you won't get bored if you pick Zagreb out of all Croatia resorts for your next vacation.
Where to Stay in Zagreb, Croatia – City Center Area
---
Reasons to Visit: Old Town, History and Architecture
Here is a list of 3 top-rated, affordable properties in Zabreb that are in or close to the City Center.
Click on the hotel photos or hotel name, and check them out for yourself!



Why Zagreb?
Unlike other popular destinations like Dubrovnik, Zagreb it's a year-round destination, with good outdoor options. During summer you can check the Jarun Lake, which offers great ways to have fun swimming, sailing. You can also dance the night away in the discos by the lake after your swim. In wintertime, you can go skiing on the nearby Medvenica mountain. Zagreb also offers a wider selection of accommodation, which means that there's something for every budget. Are you looking for couture shopping? Look no further. Zagreb is a strong competitor for the other popular European cities where you could do for your dollar when shopping. As for money, you can have a great time in Zagreb on a daily budget of no more than 450kn, around 60eur, including accommodation. What more can you wish for? Surely a great answer to the question. 'Which Croatia Resort Should I Choose on a Budget?'
Our Top Pick of Croatia Resorts
While there's no definite answer when it comes to Croatia Resorts and Which Should I Choose on a Budget. It really depends on a person's character and desires. But, we do have a top pick. It's Split.
You're in the center of everything, with lots of options to visit around, you're at the number one most wished for a place in Croatia, the coastline. And you're 4-5 hours away by bus from the go-to destination Dubrovnik, should you want to visit. And Split is cheap enough, with a price tag of easily under $60 for a day's budget.
Whatever your choice, you are going to have a good time in any of the Croatia Resorts.