Everyone wants to find the Lowest Airfare available, whatever their destination. Staying in the country or going abroad, you want to find a flight that does not cost a small fortune but also one where you can arrive without a mega layover. Doing so is actually somewhat easy. It just takes some work and planning.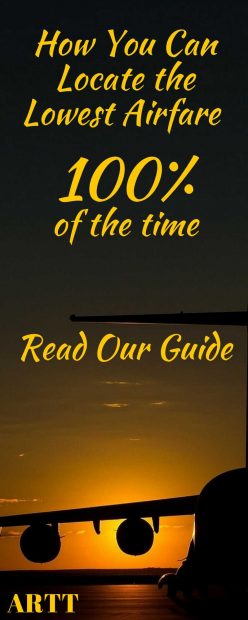 Airlines and sites that sell tickets benefit from you paying a higher fee. When you pay more, they get more. You will have to work harder to find a cheap price. That is, if you want that good deal and if you want to avoid the roadblocks ticket sellers put up to get you to pay extra for the same flights.
There are a few steps in this process, but don't worry if it takes a little longer or is a little harder to do. In the end, you should be able to get the cheapest ticket possible, regardless of where you are going. This is possible and achievable for everyone … so buckle up, put your tray table up and let's get started.
Incognito Is The Way To Search For Lowest Airfare
Sites track you. Using cookies, they can see where you go and what you do. While this information is helpful in a lot of ways, it can also work against you, like in the case of flight websites. When sites already know where you visited, where you are going and the rates that are given to you by other sites they can offer a deal that is a little better but usually not the best deal.
They will use your search history and recent activity to determine whether you have searched for certain flights. When they see you looking into these flights, they will up the prices. That may seem counter intuitive, for these sites to charge you more as you research, but there is a reason behind it.
When they notice that you are looking for specific flights, they want you to buy now and pay higher. To make you do this, they inflate prices so that you feel an urgency to buy now, lest prices increase soon.
To get the best deal, lowest prices, go incognito. When sites cannot track you, they cannot use your information against you. It is how you save yourself from questionable practices like price inflation.
Lowest Airfare Prices Are Obtained 1-2 Months Before Your Departure Date
Part of getting the Lowest Airfare is buying well ahead of when you have to fly. The sooner you buy, the cheaper the flight is going to be. If you wait until the day of your flight is just around the corner, the price more than likely has gone up significantly. The best flight prices usually come around 40 to 50 days before the flight on average. Too early and you pay a little more, and as time for the flight nears you will pay more. The trick is researching the average costs as time approaches and look for the sweet spot to purchase.
The moment you know when you are going to need to fly, book your flight and information. Airlines are going to charge more if you book too close to your flight time and you might even reduce your options if flights fill up.
Keep in mind that some cost-saving options available right now might not be available in the future. Start buying immediately to keep your costs minimal.
Also you have to look at what you get for your money. Many of the airlines look better than the others until you have to add in the extras. Free checked baggage is the largest of these differences. Airline 'A' may offer you a ticket that is $100 but has a $75 baggage fee plus you have to pay for meals, pillows, and in some cases even a bottle of water. Airline 'B' on the other hand might offer you a flight for $160 with everything included. You really have to read the fine print when booking any flight.
Lowest Airfares Can Be Purchased Last Minute
Yes, this sounds contradictive and buying early is still best. BUT, there are last minute deals available. If you have ever wanted to take a quick random trip or if a trip comes up and you don't have much lead- time an airline might cut its prices to fill seats.
These deals are riskier if you have a place you have to go, but the deals can save you a lot of money. This is usually for small, short trips, but the price cuts can get you on a flight in a matter of days without having to spend nearly as much as you normally would.
Choose the Best Day of the Week (Sometimes Month)
Not every day is equal in the eyes of the airlines when it comes to flight costs. The Lowest Airfare oftentimes land on a weekday, though the exact day changes. Do not assume that every day costs the same for every flight.
If you want to get the best deal, look at the entire month. Every day is going to have different prices, and some days will remain consistently low. Choose a day that is the lowest.
Remember that the lowest day can change often. While weekdays often save you the most amount of money, it does depend on the time of year, airline, and several other factors. The best rates available are usually on major holidays in specific countries. The week before Christmas or New Years may be extremely high but on the very day rates can be in the cellar.
Multiple Stops
People like getting to their destination as soon as possible. When they have a layover, they typically try to keep it short so they can get right to where they want to go. This might get you to your destination sooner, but it can also cost you more money.
If you want the Lowest Airfare, you might have to consider getting multiple flights and spreading them out. By getting multiple flights with longer layovers, you get to experience different parts of the world and you can save money while you do it.
Another option is to buy tickets separately. You can buy a ticket to a major city, and then buy a ticket from there to your destination. Instead of having that rolled into one ticket price, two tickets could cost you less. This is the best of all practices to get really low rates. We fly to Chiang Mai, Thailand on a regular basis. The main airport on Bangkok is BKK and the smaller DMK. The cost from BKK are quite a lot higher but that is the airport most international flights will take you to. Get on the free shuttle bus at BKK and take a 20 minute free ride through Bangkok to DMK and you may save $20 or $30 on the flight to Chiang Mai. This does not seem to be a huge amount but in Thailand where meals are about $1 each and Songtheiu Taxis are only 20 cents and extra $30 pays for a lot.
Sure, this step might take more time to get you to your final destination, but it succeeds in two important things: saving you money and showing you different cities. Enjoy the stopover city a little, save some money, and still get to where you need to go. All larger cities have multiple airports and in almost all cases offer free shuttle services between the different airports.
Choose the Right Airline
Each airline is going to have its own prices for the same flights. Some airlines will actually specialize in budget flights, giving you the cheapest available prices. Their entire goal is to keep flights cheap so that you do not have to spend more.
Look into these airlines. Consider local or very small ones, too. These types of airlines are going to save you a lot of money if you can book with them, even if it is just one leg of the trip. In some cases, they can save you hundreds of dollars on a flight.
Make sure to compare each airline and use the above information to figure out when the best flight time is. You could potentially cut the cost in half.
Do not worry about sacrificing too much, either. While the Lowest Airfare will typically lack the amenities that the more expensive flights would offer, the quality and flight duration are generally the same.
Choosing the right deals, time, airline, and flight can take a lot out of you, but it saves you money in return. If you are hoping to catch the Lowest Airfare, you will want to put in that extra legwork to make it possible.
One note, while these type of flights are fine for a duration of 2 to 4 hours when flying over larger distances I would simply not consider using them. You will arrive unhappy, tired, stiff and sore from the smaller seats and restricted leg room.
Our Conclusions
There is not a set number of steps to find the Lowest Airfare but as you begin using different sources to find flights you will get a good idea of the going rates for certain flights. Take these with the tips above, spot a couple of likely flights and then before you book check the flight's company pages and see if you can get them cheaper however from our experience we usually get the best prices from certain sites. Our favorite sites are Kiwi and E-dreams with JetRadar as the site to start from because they check many airlines at one time.