Is there a way to avoid experiencing the sugar high, the crash that inevitably follows, and still have tasty healthy Halloween treats? Halloween is known not just for the fun costumes but also for the edible goodies. The sugar high, calorie-rich colorful Halloween treats that wreak havoc on the body.
Of course, there is a way to avoid experiencing the sugar high, the crash that inevitably follows, and you still have tasty healthy Halloween treats. And it is not very difficult to accomplish either. All you need to do is make a few substitutions and you can have a delicious, healthy and happy Halloween without all the after effects of eating tons of sugary candy.
1. Instead of king size candy bars, buy the mini sized ones. We are often more aware of how many candy bars we eat rather than the size of each of them. By using smaller bars you will end up eating fewer and consuming lesser calories.
2. Replace the candied apples with fresh apples dipped in peanut butter. You get something sweet that has nutrients and healthy fat.
3. Replace the yogurt tubes and pouches that are high in sugar and low in protein with ones that have natural greek yogurt. They will taste just as good but are better for your health.
4. Get the dried fruit and nut bars that have natural sweeteners like honey instead of the usual candy bars. Natural sweeteners don't cause the sugar high that usually accompanies candy bars.
5. Instead of buying candy corn, you can make caramel at home. The advantage of having homemade Halloween treats is that you know exactly what goes into them. The store bought treats have artificial flavorings, colors, and preservatives which are definitely not good for you.
6. With all the sweets, it would be nice to have some salty relief. But don't reach out for the bag of chips. Instead, opt for salted nuts like pistachios or peanuts or almonds.
7. You can also make your own nut bars by melting jaggery and adding some nuts to it. Spread it out while it is hot and cut it into smaller bars. Jaggery doesn't have the same effects as sugar on your body and it is a healthier alternative.
While choosing your Halloween treats, make sure that they are as natural as possible, contain as little preservatives and artificial flavors and colors and have the maximum fiber content and protein. High fiber content implies that it will make you full faster and keep you feeling full for longer. This will prevent you from overeating. So, keep the above tips in mind and have a healthy and happy Halloween.
Here Are Some of Our Favorite Healthy Haloween Treats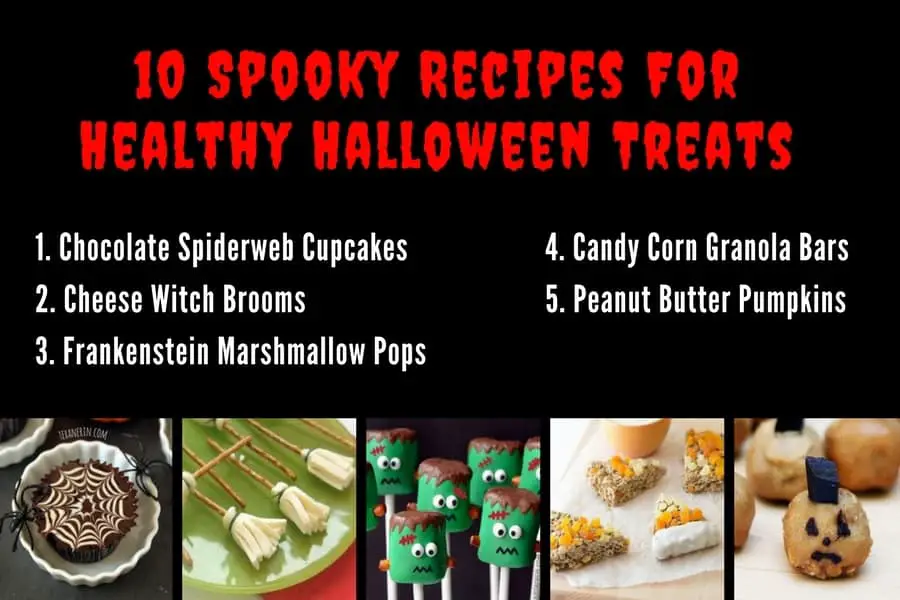 (grain-free, dairy-free) courtesy of Texanerin
Super moist chocolate spiderweb cupcakes that are made grain-free and dairy-free! Halloween baked goods are so cute, but often so processed. Not here! Except for that pesky white chocolate. I just can't quit it. And the frosting? Made with coconut oil, cocoa powder, honey and peanut butter. Yeah! Yields: 8 Cupcakes
courtesy of Cocinandoconcatman
The brooms, along with their hats are the most characteristic elements of a witch, in addition to their method of transport. So we have decided to provide several so they can visit us on Halloween night. Let's see how the witch brooms of cheese are made.
courtesy of Justataste
While chocolate-dipped marshmallows aren't exactly a health food, these lil' monsters were so cute we couldn't leave them off the list! They're practically too adorable to eat. Yields: As Many As You Want
courtesy of Eatingwell
Inspired by the classic fall candy but without all the sugar, these festive granola bars are a nutritious and adorable alternative. 8 Servings
courtesy of The Smart Cookie
I feel like it was just a couple of weeks ago that October was almost here and Halloween was still a good thirty days away. Now it's in less than 2 weeks and, despite the fact that I've been running around like a mad-women trying to prepare some Halloween themed recipes for you all, I'm excited. Yield: Unlimited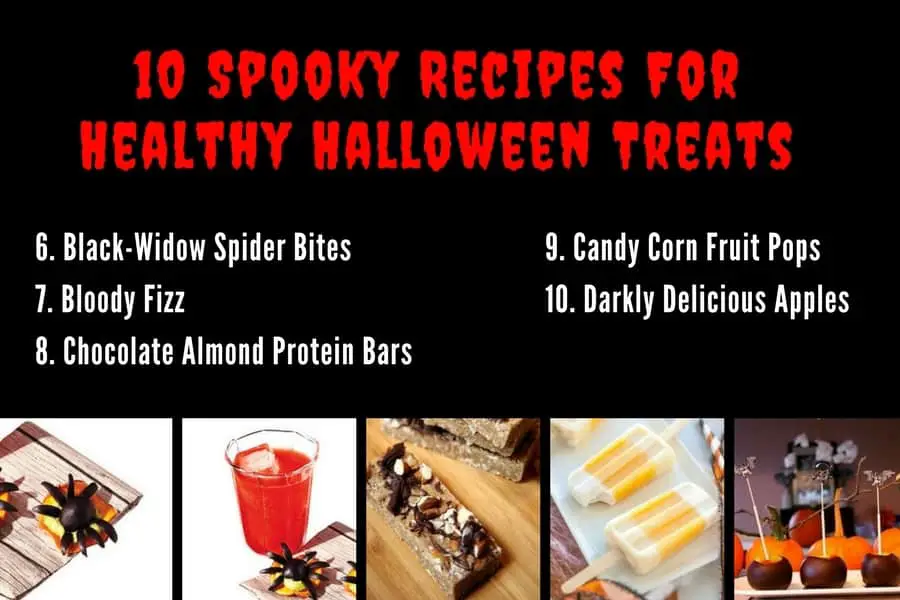 courtesy of Martha Stewart
For the full Halloween experience, serve with a Bloody Fizz cocktail. Yield: 15 Servings
courtesy of Martha Stewart
For the full Halloween experience, serve with a Bloody Black Widow Spider Bites. 1 Serving
courtesy of Popsugar
These protein bars are so good, you'll think they're dessert. At 166 calories and 13 grams of protein, however, they make a great post-workout snack when you're craving something sweet. Yield: 12 Bars
courtesy of Happy Food Healthy Life
I just couldn't pass up sharing this month with Halloween just a couple of weeks away! Which is exactly why I created these Candy Corn Fruit Pops. I wanted kids to get the novelty of one of Halloween's favorite candies without all the corn syrup and dyes. Colored and flavored with fruit and a tiny bit of agave, there's no reason why you would have to say no to these fruit pops.4 Servings
courtesy of Everydayhealth
Did you know that the pairing of dark chocolate and apples create an antioxidant-rich dynamic duo that may help protect your heart? Here are our heart-healthy and tooth-friendly twist on traditional candied and caramel apples. Yield: 4 Servings
---
We Want Halloween To Be Safe This Year
Fall celebrations like Halloween and Harvest Day are fun times for children, who can dress up in costumes, enjoy parties, and eat yummy treats. These celebrations also provide a chance to give out healthy snacks, get physical activity, and focus on safety.
Check out these tips to help make the festivities fun and safe for trick-or-treaters and party guests.
Halloween Health and Safety Tips
---
Simple Substitutions: Start Your Healthy Halloween Treats Here
Click On The Images To View A Few Similar Posts