Are you someone that wants toned and defined arms, but not a fan of dumbbells? Well, you're in luck, because there is Bodyweight Exercise. There are many arm workouts that don't require any equipment. Besides, it would be easier that way. You can achieve tone and definition in your arms without investing in super expensive weights or other equipment. If you don't want that kind of trouble, you don't have to have it. In fact, here are 5 moves that only require you to have a ready body and an eager mind.
Here's your plan for Bodyweight Exercise for Toned Arms
Do each exercise as many times as instructed.
After you complete them all, take a rest and go through the sequence once more.
For better results, complete the sequence a third time to feel the change the next morning.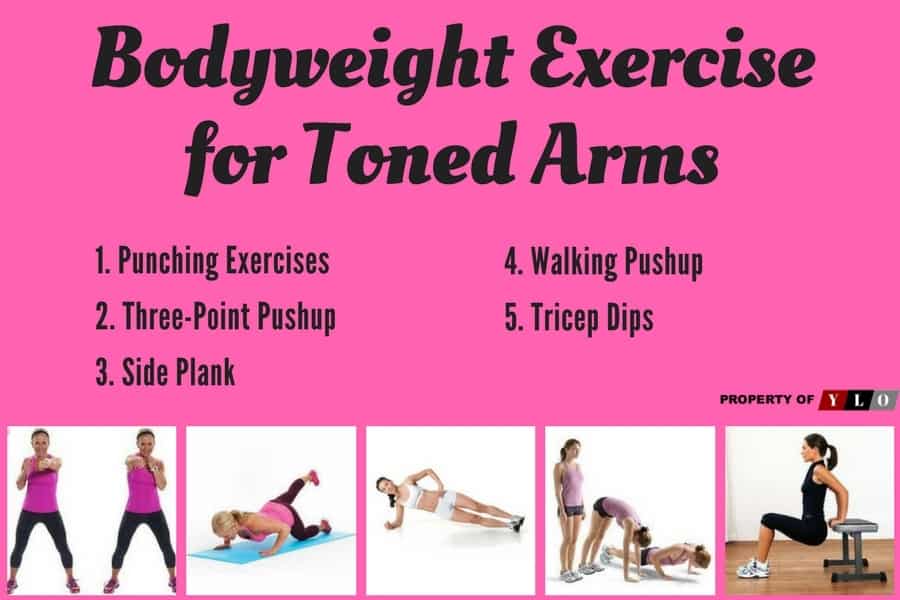 1. Punching Exercise
How to perform punches correctly
•  Start with spreading your feet just a few inches past shoulder width. Bend your knees slightly. To keep yourself in balance, tighten your abdominal muscles.
•  With one arm at a time, punch in the forward direction.
Increase the pace and intensity for 60 seconds.
2. Three-Point PushUp
How to perform a three-point push-up correctly
•  Start with getting on your hands and knees. Lift and extend your leg out behind you.
•  Keep your leg straight and bend your arms as you lower yourself into the push-up position. Bring yourself back up by straightening your arms and repeating.
Do this 5 times. Each time you should have one leg out at a time. As you get stronger and used to this exercise, add more reps.
---
From the pages of WikiHow: How to Get Toned Arms
---
5 Minute Workout Weight Weights For Toned Arms
---
A helpful article by Dr. Axe: Benefits of Body Weight Exercise
---
3. The Side Plank
How to properly perform a full side plank correctly
•  Start with lying on the ground. Your feet should be stacked, along with your shoulders stacked on your hands.
•  Raise yourself up into a side plank position. Make sure that you are keeping your stomach engaged. Your feet should remain stacked as well. Do the same on the other side.
Hold this position for 30 seconds on each side.
A yoga mat isn't a requirement. Although, it does help with comfort. Especially for those that have fragile and sensitive wrists or joints. You should consider using a non-slip mat.
4. The Walking Push-Up
How to do a walking push-up correctly
•  Begin with placing both hands on your mat. They should be just a few inches apart from each other. Extend your legs out into a plank position and keep your core tight and engaged.
•  Bring your right hand and your right foot to the side of you and lower yourself down into a push-up. Make sure that your elbows are bent to your sides as you lower your chest to the ground. Bring yourself up by pressing into your arms and straightening them. Bring your arm and your foot back to the position you were in at the beginning and do the same thing on the other side.
Repeat this for 5 times total on each side. That will be 10 push-ups.
5. Tricep Dips
How to perform a tricep dip correctly
•  Begin with sitting down in a chair. Your knees should be bent and your feet flat on the ground. Keep your hands right under your shoulders and your fingers and feet facing the same direction as well. Lift your center up.
•  Bend your elbows back and use your arms to raise yourself back up again.
Perform this exercise 12-15 times total. Your core and glutes should be tight and engaged during this whole exercise.
Let us know if you have tried Bodyweight Exercise for toning your arms and if so, how it is working for you. Our readers are looking for information on ways to improve their health and looks.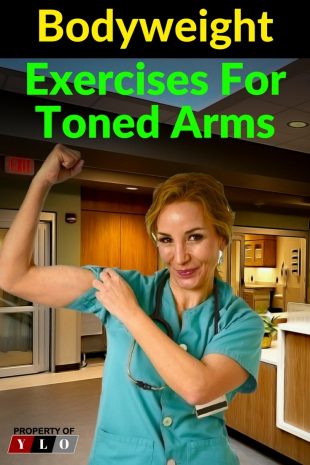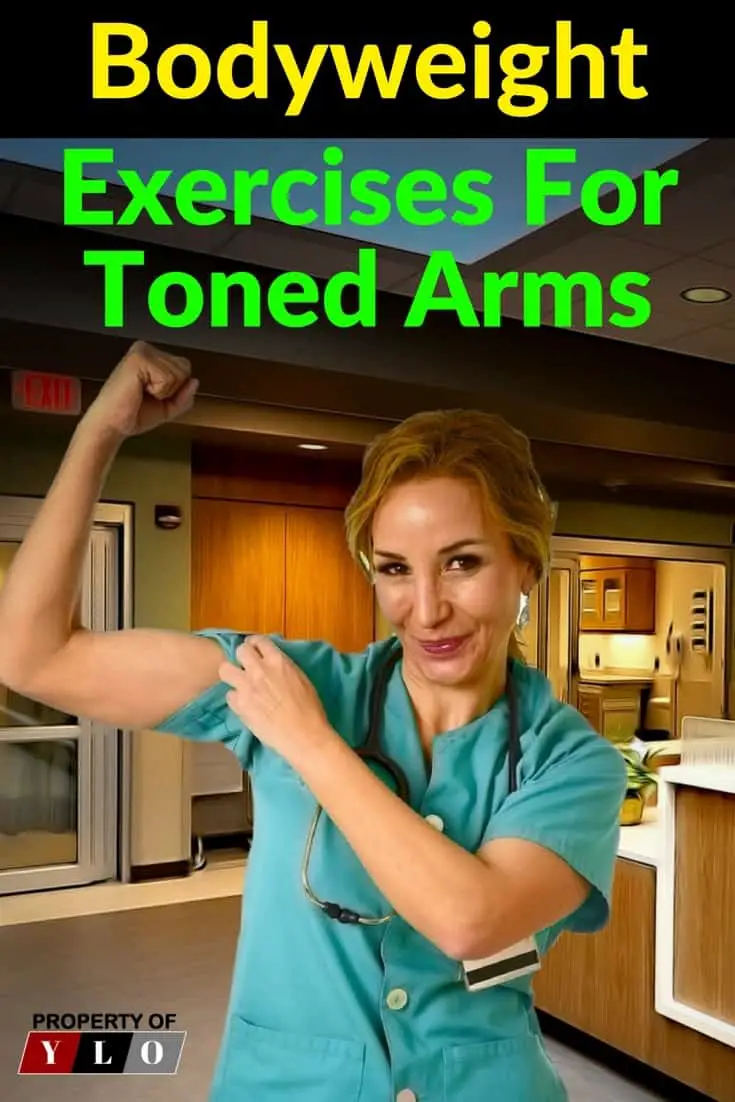 ---
---
Click On The Images To View A Few Similar Posts
---
---