There have been many rumors about the Macrobiotic Diet and Cancer. That the Macrobiotic Diet is a way to help cure the disease. There have been no studies to indicate that. We will go over what a good Macro diet can do for you and the health benefits that are still substantial if you follow the program.
Facts to Know About Healthy Macrobiotic Diets
Macrobiotic diet refers to a diet that consists primarily of vegetables, whole grains, and cereals. While the early versions of this diet consisted of cooked whole grains, the more extreme regimens are no longer eaten because they have potentially dangerous health effects. As compared to other diets, Macrobiotic diets focus on natural foods that have many health benefits. Here are the top 10 facts to know about healthy Macrobiotic diets.
1. The foundation of a healthy Macrobiotic diet consists of vegetables, whole grains, and unprocessed food.
2. One of the most important requirements of a Macrobiotic diet is limiting the methods of cooking and the types of utensils and cookware that should be used.
3. When you want to get the best results while following a Macrobiotic diet, you need to take your time and meditate. Since food is considered sacred, it should also be prepared in the most peaceful environment.
4. A Macrobiotic diet is believed to be healthy for the heart because it omits fats and refined sugar especially fats derived from the animal sources.
5. According to studies, those who have followed a Macrobiotic diet have indicated lower blood pressure and serum cholesterol levels than the general population. This means that this diet can help prevent heart disease.
6. There are certain vegetables such as nightshade vegetables which are normally excluded from the diet. These vegetables are not only thought to be unhealthy but it's also believed that they can increase the pain when one has arthritis.
7. As compared to other diets, this is one of the most difficult diets to follow.
8. A Macrobiotic diet consists majorly of cooked food. This is because raw food is believed to be very difficult to digest and also too cooling to our systems. In this diet, eggs and dairy products are usually avoided. In fact, the only animal product allowed is white fish
9. Since it consists of a lot of vitamins and minerals, healthy Macrobiotic diet is considered to be a very balanced diet.
10. In this diet, herbs, spices, and onions are believed to be too stimulating hence are normally avoided.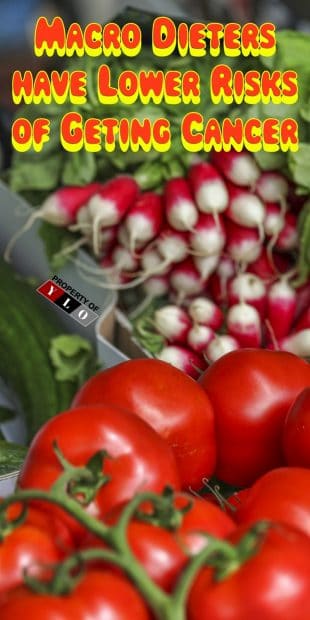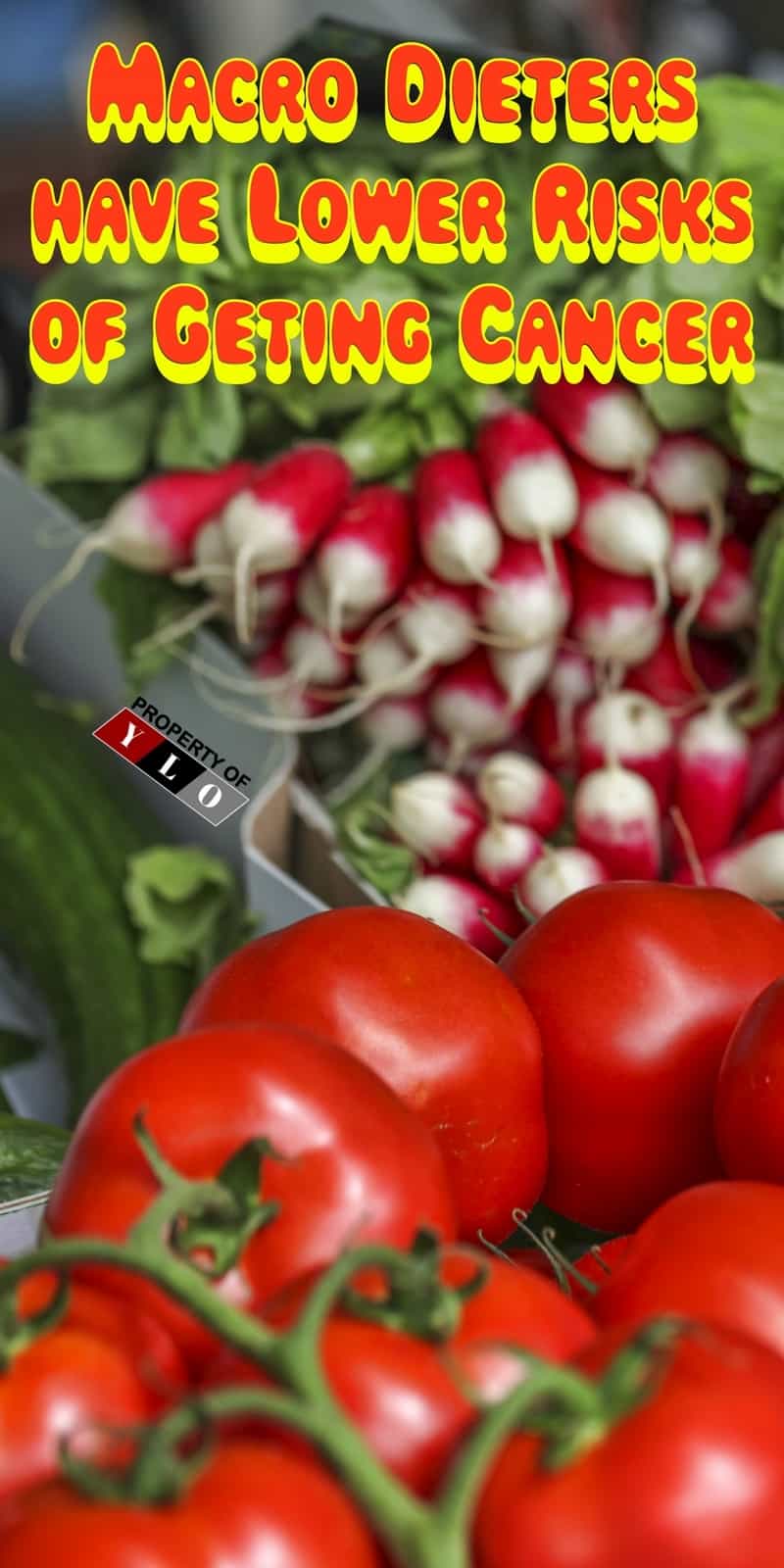 Although there are several varieties of the Macrobiotic diet that is followed around the world, most have roughly the same breakdown:
‥ 50+ % of calories coming from complex carbohydrates (sometimes even up to 75%), 15% to 30% healthy fats, and 10% to 20% proteins. Even though carbs are eaten in high quantities, refined carbs like processed grains and sugar are avoided.
‥ A high proportion of the carbs in a Macrobiotic diet (around 25% to 30% of total calories) comes from fresh or cooked vegetables. This is a very high percentage considering how low-calorie vegetables are naturally.
‥ Complex carbs, such as brown rice, barley, oats, millet, and organic (non-GMO) corn are also frequently eaten, making up about 30% to 40% of total calories.
‥ Many also get about 5% to 10% of their calories from beans or legumes, often the types that are fermented like miso, tofu, or tempeh.
‥ Sea vegetables are a staple in most Macrobiotic diets, making up about 5% to 10% of total calories.
‥ A small percentage, about 5% of calories, tend to come from fish or seafood (usually consumed several times per week on average).
Overall, as compared to other diets, healthy Macrobiotic diet has a lot to offer. This means they will improve your sense of wellbeing, peace, and health.
Many people believe that a Macro diet can cure cancer. The Macrobiotic Diet is many times the first place a newly diagnosed person may turn. We can help ourselves by changing diets but realistically the use of a Macro diet has probably come a little too late. That being said, there is a good amount of food that the same diet, if used before you have cancer, can be helpful in prevention. Cancer Study Results of Macro Users
The word macrobiotic comes from the Greek words macro, which means large or long, and bio, which means life.
The Macrobiotic diet was developed in the 1920s by a Japanese philosopher called George Ohsawa. He believed that by eating a simple, healthy diet, we could live in harmony with nature. He also believed that his Macrobiotic diet could cure cancer and other serious illnesses.
The Macrobiotic diet program is meant to help you avoid admitting toxic substances into your body with a preventative diet. This can be a strictly vegan diet or many people also include fish with white meat and poultry on a limited basis.
There has been no study that has shown that the Macrobiotic Diet can either treat or prevent cancer. There are studies however that show the diet can substantially lower both blood pressure and cholesterol. Either way, the diet program is well worth your consideration.
The remainder of the post is going to give you some of the tasty dishes that you can have with a macro diet. These are some of the ones that we use and love even though we do not participate in the program exclusively.
Top 10 Tasty Recipes in a Macrobiotic Diet
1. Sweet Potato Fries courtesy of Gourmandelle
I wasn't a huge fan of sweet potatoes but this changed once I discovered how to turn them into sweet potato fries and pair them with delicious sauces! I love that they're so versatile. You can use them in savory dishes, such as this recipe, soups, stews, burgers, and more, but also create awesome desserts with them! 2 Servings
---
2. Buckwheat Pancake Stack courtesy of Clear Spring
Weekend Buckwheat pancake stack. This is a nutty wholesome breakfast which can be made in no time. Double the ingredients to enjoy with the whole family. 2 Servings
---
3. Sauteed Broccoli with Tomato, Garlic and Herbs courtesy of The Spruce
This quick and simple whole foods recipe for sautéed broccoli with tomato, garlic, and herbs was inspired by my mother's garden. The dish is perfect in summer and early fall when tomatoes are at their best. It's a delicious side vegetable, and it serves well with whole grain or semolina pasta. 4 Servings
---
4. Miso Soup courtesy of Allrecipes
"Dashi is a basic stock used in Japanese cooking which is made by boiling dried kelp (seaweed) and dried bonito (fish). Add more dashi to your soup if you want a stronger stock. You can use yellow, white or red miso paste for this soup. Yellow miso is sweet and creamy, red miso is stronger and saltier." Michelle Chen 4 Servings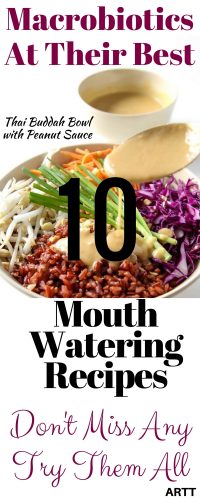 ---
5. Pea and Broccoli Miso Soup courtesy of Nourish Every Day
Pea and Broccoli Miso Soup is nourishing, comforting and a breeze to make; just the kind of recipe we're all keen for in January! Gluten-free, dairy-free and sugar-free, it's purely healthy but also purely delicious. A healthy, vegan-friendly, green hug in a bowl. 4 Servings
---
6. Macrobiotic Breakfast: Brown Rice Green Bowl courtesy of Gourmandelle
There's no reason why this Brown Rice Green Bowl can't be enjoyed at other times of the day, but I find that the tasty yet simple flavors and short ingredient list are just what my belly wants in the morning. 1 Servings
---
7. Mushroom Barley Soup courtesy of The Spruce
Barley is a rich source of plant fiber and nourishes intestinal health, as well as lowering cholesterol and being an excellent source of nutrients. We love the addition of dried shiitake mushrooms for their medicinal and healing value: they are purported to improve immunity, strengthen the heart and cardiovascular function, and aid in the body's detoxification process. 4-6 Servings
---
8. Zucchini Dal courtesy of Gourmandelle
I can't say I'm a huge fan of the Indian cuisine (Lebanese food aficionado here! ) but I do enjoy a good curry or dal from time to time. In case you are not familiar with this kind of recipe, you should know that dal or dhal is basically a lentil stew. 4 Servings
---
9. Thai Buddha Bowl with Peanut Sauce courtesy of Leela Licious
First, for most buddha bowl recipes I will check the fridge before I start. These healthy bowls are great for combining leftovers into a new exciting dish. In this red rice bowl, I used leftover rice from dinner the night before. If there are no leftover grains, now is the time to put on a pot of quinoa or rice of choice. 2 Servings
---
10. Broccoli and Tahini-Miso Dressing courtesy of the Simple Veganista
Simple, flavorful and creamy. Tahini and miso pair so well together and are both full of nutrition. No empty calories in this recipe, each ingredient holds benefits to unlock your bodies full potential. This easy to make dish can be served as a side dish, paired with rice or quinoa, or simply eaten as is. I found this to be a great lunch or dinner 'mono meal' with a nice glass of lemon water. Filling and light, yet very satisfying. I look forward to coming back to this again and again. Feel free to serve the broccoli either raw, steamed or roasted. I have mine lightly steamed here. If keeping broccoli raw, you may like to keep the florets on the smaller side. Serves 2
---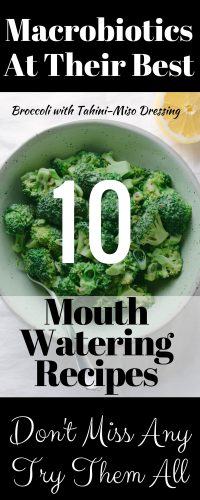 ---
Final Thoughts on the Macrobiotic Diet
A Macrobiotic diet is an eating approach that stems from Asian traditions that emphasize consuming mostly plant-based (vegetarian) proteins, low amounts of animal foods and fats, and a balance of different micro- and macro-nutrients that support yin-yang energy balance in the body.
While a Macrobiotic diet has been shown to have anti-inflammatory effects, some concerns are that Macrobiotic diets are high in salt but relatively low in protein, antioxidants from fruit, vitamin D, calcium and sometimes B vitamins.
Click On The Images To View A Few Similar Posts