If you are like many Americans, you bypass the sardine section at the grocery store without a second glance. The fact is that if everyone knew the health benefits of eating sardines they would be more than happy to include them in their regular diet. Sardines are a superfood. This beautiful blue fresh fish with a tinge of silver is revered all over the Mediterranean, the Spanish have set aside a day to celebrate the Sardine. Five or six fresh sardines on a stick being char-grilled over a wooden fire are found all over the Mediterranean on the beaches. From Almeria to Gibraltar the prevailing smell on the beaches from June to October is the smell of the fresh sardines being cooked.
We spend a great deal of our time in Europe, especially on the Mediterranean coast. We have had sardines a couple of times a week cooked like this and they are great. Don't let the taste of canned sardines packed in oil be your only experience. The natural fresh fish cooked either on a grill or open fire tastes nothing at all like the canned variety.
Sardines – The Superfood

Sardines, are a superfood? They are not promoted as such because they are not deemed to be sexy, but they are packed with nutrients. You are probably asking yourself then, "Are Sardines Really A Superfood?" The answer is yes. Why, because there are so many good reasons they deserve that designation.
When you think about them they may not seem as appealing as some other fish. To get past that, you need to take into account what they have to offer. Many sports enthusiasts consume them regularly for increased performance and many others just for more energy. We all know that finding nutrients in their natural form is always better than supplements.
Sardines are a small, sleek and silvery sea fish, one of the few foods that contain Coenzyme Q10 (CoQ10), which is a natural nutrient found in the body's cells. As well as CoQ10, they contain vitamin B12, Vitamin D, selenium, omega-3 oils, phosphorous and protein. Fresh sardines are very popular in the Mediterranean diet and on Lanzarote in the Canary Islands, a popular pastime for tourists is consuming fresh sardines grilled over the heat from a volcanic vent. To them, Sardines Are A Superfood.
You've probably heard of the health benefits of Omega 3 fatty acids. They are essential fats, meaning that they are essential to the proper functioning of your body. The health benefits of the Omega 3 fats are numerous, and include a reduction in your risk of heart attack as well as many other cardiovascular benefits, and improvement to mental function, just to mention a few. Sardines are extremely high in these Omega 3 fatty acids.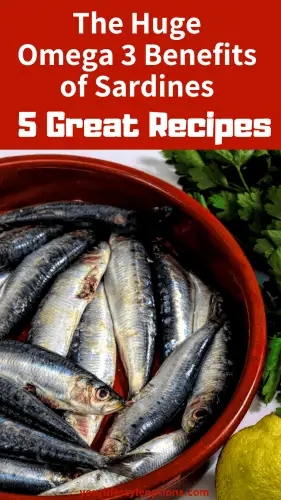 But the vitamin and mineral bandwagon doesn't stop there. It also includes phosphorus, selenium and vitamin D. All of these are great additions to your diet that provide excellent benefits to your heart and overall cardiovascular system. They are also exponentially vital to helping prevent both hypertension and congestive heart failure. Why not practice prevention for both and strengthen your heart at the same time? You ask if only there were something that could do it all. Come on, you know the answer, the Sardines Are A Superfood.
Calcium in Sardines can prevent osteoporosis by keeping your bones strong. Did you know the majority of American are deficient in Vitamin D? Sardines contain high amounts of Vitamin D that can remove that deficiency. Not only that, Sardines contain a high amount of B12, as well as numerous other nutrients.
So you say you don't have any heart worries? Well, then eat sardines for their benefits to your joints, memory, your overall energy levels and the enhancement of your skin. And if you think the health benefits of eating sardines isn't worth the fishy smell when you open a tin then consider looking into other variations such as buying them fresh and cooking them in some of the recipes provided below. Either way, you would be hard-pressed to find anything with such positive health benefits.
Final Verdict: Sardines = Superfood?
Based on all the above discussions, we've come to the conclusion that, of course, Sardines are a superfood. Sardines are among the healthiest foods we are able to consume as outlined by the international experts for health and environment. Today, virtually all nutritionists are telling us to consume fish oils in our meals in order to live longer and avoid early aging. You are trying to obtain essential fatty acids in your diet since you know the fact that these give benefit to your heart and brain.
Because they are also affordable, sardines are making a comeback as a great weight loss food for serious dieters. They can also be prepared in a variety of ways. Many people worry that the sardine diet means cracking open a tin and gulping down the oily fish. Instead, there are many tasty recipes that include sardines, such as barbecued sardines, Sardines with chili, garlic and lemon curry, fried sardines, and sardines with pasta.
See some of the ways that we use Sardines in our meal preparations below:
5 Great Sardine Recipes
1. Grilled Sardines with Aioli
from Bon Apetit
Sardines can be a hard sell. Which is fine! Smoked trout, gravlax, or even grilled shrimp would be great too.
---
2. Fishermans Eggs
from Chowhound
Usually, canned sardines are thought of as a last resort for when you can't be bothered to cook but reconsider. Not only is the small, oily, silvery fish inexpensive, easy to prepare, and loaded with things that are good for you, like omega-3 fatty acids and calcium, it's also one of the most sustainable fish around.
---
3. Baked Sardines with Garlic and Oregano
from The Spruce
The recipe calls for fresh sardines, garlic, oregano, lemon juice, olive oil, salt, and pepper. The hardest part of this recipe may be finding fresh sardines—unfortunately, canned just won't taste the same.
---
4. Pan-fried Sardine Fillets on Toast
from Pescetarian Kitchen
Fresh sardines are one of those awesome types of fish that I love to cook with. they're often crazy cheap, which means you don't have to break the bank to eat them regularly. They're also really good for you – full of omega-3 and those healthy kinds of fat that we all need in our diet. And they couldn't be any easier to cook with.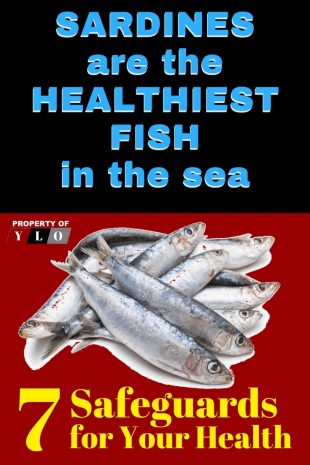 ---
5. Sardine and Sun-Dried Tomato Salad
from Delicious Living
Sardines contain the same inflammation-taming fats as salmon but are less expensive. Pairing sardines with tuna tones down their concentrated flavor; adjust the ratio if you like a pronounced taste. For a tuna-melt twist, spread this salad on sliced whole-grain bread, sprinkle with chopped tomatoes, and broil until hot.
Click On The Images To View A Few Similar Posts