As the name implies the MIND diet is to aid in and lower the risk of all types of Alzheimers' Diseases. It is a general mixing of the DASH and the Mediterranean diets thus also giving you a great chance of lowering blood pressure and other benefits. The MIND diet has lowered the risk of Alzheimer's by as much as 53%.
MIND Diet Introduction
The term MIND was derived from several words, Mediterranean-DASH Intervention for Neurodegenerative Delay. The diet was created by Martha Clare Morris. The study which ultimately created the diet was funded by the NIA (National Institute on Aging) at Rush University Medical Center. The goal of the initial study was a diet to aid in the risk of Alzheimer's based on food choice and diet. The MIND diet has lowered the risk of Alzheimer's by as much as 53 percent.
To obtain that percentage, the test subjects followed the diet plan in all ways, subjects who only followed on a partial basis had a 35 percent lower rate. This work study took nearly 10 years to complete and use a total of 923 test subjects. People on the Mediterranean diet eat only the most natural food possible with little to no red meat or unhealthy fat in their food plan. The DASH diet does much the same and focuses on lowering blood pressure, through a natural diet with less salt intake.
The researchers combined the two diets to make the program easier for Americans to use. The MIND diet allows eating 10 types of food a day and totally abstaining from 5 types of food.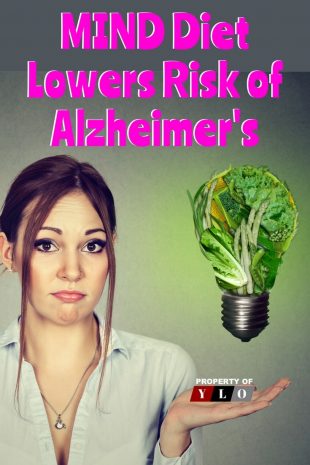 The Healthy List Contains
✓ Whole grains
✓ Beans
✓ Wine
✓ Poultry
✓ Fish
✓ Berries, especially blueberries
✓ Nuts
✓ Vegetables
✓ Green leafy vegetables in particular
✓ Olive oil
The Unhealthy List Contains
⚠ Butter and stick margarine
⚠ Cheeses
⚠ Fried or fast food
⚠ Pastries and sweets
⚠ Red meats
The Rules of The MIND Diet
❶ Unhealthy foods are allowed, but less than one serving per week, with the exception of butter*
❷ Snack almost every day on nuts
❸ Eat one other vegetable every day
❹ Drink a glass of wine each day
❺ Eat a salad each day
❻ Get at least three servings of whole grains per day
❼ Eat beans every other day
❽ Consume fish at least once a week
❾ Consume poultry and berries at least twice a week
❿ *Less than 1 tablespoon a day of butter is allowed per day
MIND Diet Number 1 Food Choice
Blueberries Are the Bomb
This is the only fruit choice named as a must in the diet plan. The reason "blueberries protect the brain better than any other food known" Strawberries have also done well in studies and are another good food choice.
People who used the diet sparingly still were able to get a high protection rate for A.D. with just this one choice.
The diet was formulated based on the past diet studies with an emphasis on protecting the brain rather than older thoughts such as weight loss. This was the first study done with solely A.D. protection as an emphasis.
Alzheimers like heart disease can be related to many causes and those include but are not limited to environment, genetics, and behavior.
The studies revealed that older individuals that developed AD had less to do with genetics than those with Early Onset AD issues. Genetics and past behavior posed a great risk to the younger sufferers.
Studies did show that individuals with an early life illness such as heart attack, stroke, or obesity who began either the MIND diet or DASH diet at earlier ages had a much better risk of avoiding AD altogether. The earlier you adopt a diet program like this the better your protection.
It appears that the earlier an individual adopts the MIND diet the less risk they will have to develop Alzheimer's. Not that this is a guaranteed protection but the chances are much higher in your favor in addition to the other benefits you might have such as reduced risk for the following as well:
• No counting calories!
• Improved metabolism
• Lower body fat
• Improved strength
• Good cardiovascular fitness
• Lower cholesterol
• Lower Blood pressure without medication
Nutrition Basics: Explaining the MIND diet
Benefits of the MIND diet
In another study on the Mediterranean and DASH programs, the results were far different. When users choose one or the other plan and followed it strictly that achieved good results with the DASH lowering the cases by 39 percent and the Mediterranean by 54 percent. The participants who only followed either in moderation did not achieve any lowered risk. This was not the case where a combination of the two melded into the MIND program still gave a better result.
In numerous other studies, the DASH and Mediterranean diets have both shown results that allow for improved health in various areas. DASH participants had a decrease in blood sugar levels. This was believed due to the high probiotic consumption level. The DASH diet was also found to aid in blood pressure protection. Users saw a few point drop in just a few weeks and a 14 point drop in systolic blood pressure when used over a period of time.
Users were also found to lose weight and have both lower triglycerides and blood pressure on the Mediterranean diet. A study done on 780 firemen found they had a lower chance of cardiovascular disease.
Risks of the MIND diet
Studies to determine risk by both the Ronald Reagan UCLA Medical Center and an adjunct assistant professor at the UCLA Fielding School of Public Health to determine any risks found them quite low. The foods are high in plant-based food such as vegetables, fruits, and plant-based proteins (nuts, seeds, legumes). They also offered two electrolytes, magnesium, and potassium which are usually not consumed in recommended allowances.
The only associated risk to be found was the pollutants found in fish and seafood. DDT, mercury in fish and plastic residues were the only negative features of the diet. That is a danger that is hard to moderate and even pond raised fish can get the same levels of water runoff.
In general, the low fat, high fiber, and healthy eating patterns will eliminate risk.
Conclusions
With the increased number of AD deaths and the higher rate of individuals contracting the disease, the MIND diet should be a must for everyone. You will gain so many positives in health and lifestyle with only a bare minimum of risk it is a program well worth following.
As with any diet, consult with a doctor before starting any new diet plan.
---
---
5 Healthy MIND diet foods
1. Blueberries, Strawberries, and Acai Berries: The MIND diet has show results of lower Alzheimer's risk of 50 percent and more. High intakes of berries aid in better brain health. The flavonoids of blueberries can increase concentration by as much as 20% a day.
LEARN MORE ABOUT THESE BERRIES
2. Cinnamon, nutmeg, and turmeric all have shown good results to increase the power of the brain. They also provided added benefits such as anti-inflammatory, antihypertensive antioxidant, and glucoregulatory features.
3. Cold Water Fatty Fish: Cold water fatty fish such as mackerel, wild salmon or sardines improve brain function due to the high levels of DHA. This is an essential omega 3 fatty acid.
DHA has been shown to both develop your memory and added brain development. Studies have shown that babies who have a low level of Omegas 3's have a great risk of vision and nerve problems. This is especially true in undeveloped countries where access to cold water fish is not available.
LEARN MORE ABOUT COLD WATER FATTY FISH
4. Coconut Oil: There have been strong benefits to fighting Alzheimer's with a high intake of coconut oil in your diet. The best brain fuel is glucose. Should your brain become insulin resistant you will have a higher degree of brain atrophy. That does not mean you should eat sugar. Rather you should eat healthy fats, this will provide the brain with a better sugar and stop brain degeneration. One of the best choices for this sugar is coconut oil. The Keytone content in coconut oil is one of the best medium-chain triglycerides found.
5. Carrots: Sometimes you get good information from dubious sources. Bugs Bunny is not a "go to" health professional but the carrots he advocated were spot on for better brain health. The carrots have a high luteolin volume and that has been found to reduce brain inflammation and reduce AD illness.
Click On The Images To View A Few Similar Posts