We all love the lazy summer days of sitting in the yard tending our grilled favorites. Some of us think those times are far too short and we want to have those grilled meals even when the snow is on the ground. We have carefully put together 25 Low-Carb Indoor Grilling Recipes to get you started.
There Are a Lot of Ways to "Get Your Grill On" Even in Winter
So it is freezing, you look out the window and there is a foot of snow on the ground, but you are dying for a grilled steak, so what do you do? You can go outside and clean the snow off the grill, fire it up and freeze a little for that steak or you can choose to grill inside.
Now, I am painfully aware that a steak tossed into a skillet on the stove (which should be a crime) cannot compare to a grilled steak. So, how do you get a steak cooked to perfection inside the house?
It is possible and quite easy to get the same flavor and consistency from your meat inside your kitchen or living room. Follow our instructions and you will get the same great taste in your food. Invite your friends over for a great grilled meal.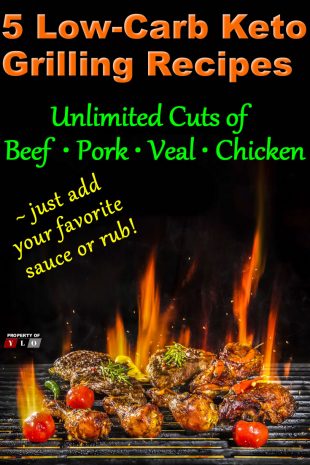 Three Ways To Approach Indoor Grilling
1. Oven Broiling / Built-In Top Grill on Stove
2. Grilling Pan / Panini Press / George Foreman Grill
3. Your Fireplace (w/ Iron Grill Skillets, Adjustable Cooking Grate, and/or Adjustable Grill Basket with Handle)
We don't cook the same size portions while indoor grilling in the winter months. But, we still grill at least once or twice a week.
This is one of the healthiest ways to cook meat, and it just plain tastes better so grab yourself a George Foreman, a Panini, a Grilling Pan or turn on your oven's broiler and try all 25 of these great indoor grilling recipes.
If you have a fireplace then you get the added benefit of the whole 'wood smoke flavor' taste.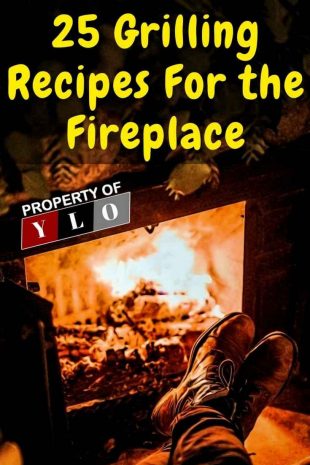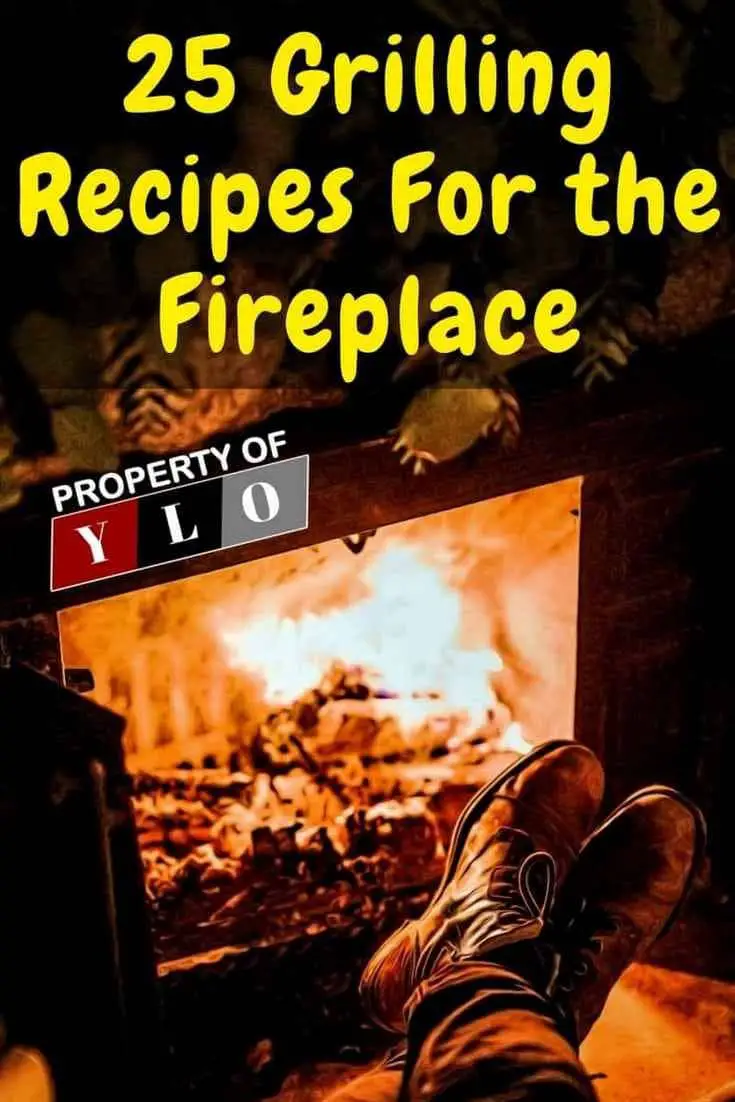 We'll Start with the Grilling Pans, Panini Press, and George Foreman Type Grills
1. Get a cast iron pan or you can just use one of the electric units from the list. These small appliances should have adjustable heights. The benefit of the cast iron is that it will hold the heat and mark the meat just like an outdoor grill.
2. You still need the essentials you use for outdoor grilling such as spices, sauces, brushes to apply the sauces etc. You will also need some help cleaning the grill pan like a wire brush. Panini users will find the grill plates come off for easy clean up in the sink or dishwasher.
3. Wait until your meat is completely cooked on the first side before flipping. Your goal is to cook half way thru the meat then flip once and cook to the center on the other.
NOTE: the second side will always cook much faster. Marinades break down meat and adding too much will make ground meats fail to hold together.
4. Many people find that they miss the smoky taste in their meat and use "liquid smoke" in their sauces. (Not for me, I would rather not cover up the good flavor of the meat with this.)
5. Choose the best meats for indoor grilling. While a great brisket like the one on our recipe list would be nice the smaller cuts and burgers, hot dogs, shrimp, chicken, boneless pork, fish filets, and vegetables tend to perform better.
It is always best to use boneless cuts with the electric grillers because the bone can sometimes be thicker than the meat and it could make for uneven cooking.
Optional: Look like a pro and create the same grill marks you get in a restaurant by placing your meat at a 45° angle then changing the position and you will have those same diamond marks as you get when you dine out.
TIP: Be prepared for some smoke. But, if you apply any liquids to the meat only and avoid dripping any in the pan or on the grill, your smoke will be kept to a minimum.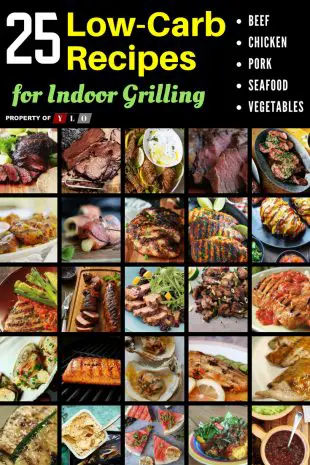 Your Fireplace – The Under-Utilized Winter Kitchen Extention
1. There are definitely accessories you will need for your fireplace:
Iron Grill Skillets/Pans (with ridges in the bottom)
Adjustable Cooking Grate
Adjustable Grill Basket with a handle
Any of these can be purchased thru Amazon, Wal-Mart, or an Outdoor Supply Store.
2. Use your outdoor grill tools for fireplace grilling. Long tongs, forks, spatulas, sauce brushes, you got the picture.
3. Decide between charcoal or wood to use for your indoor grilling recipes.
4. When you purchase a cast iron skillet/grill pan you may need to 'season' the metal before you begin using it to grill.
If it is not pre-seasoned, just preheat your oven to 375° coat the pan inside and out with oil such as canola or vegetable and cook that empty pan for 30 minutes. Turn off the oven and let it sit until completely cool.
TIP: When cooking, do not apply any oil to the pans. Only apply the sauces, marinades or oils to the meat or vegetables and cook according to the instructions in the recipe.
5. Use the Grill Basket with Handle for burgers, fish, vegetables. This will hold the food in place and make it easy to season, apply sauces or to 'flip' the food to cook on the 2nd side.
For really small items, you can put them in aluminum foil for the adjustable grill basket to hold. Remember to put in the seasonings and butter/sauces with the food as you wrap them.
NOTE: Your Meats: steaks, pork chops, chicken pieces will also work well in the adjustable grill basket.
6. Wait until your meat is completely cooked on the first side before flipping. Your goal is to cook half way thru the meat then flip once and cook to the center on the other.
NOTE: the second side will always cook much faster.
7. Choose the best meats for indoor grilling. The smaller cuts of steak and burgers, hot dogs, shrimp, chicken, pork chops, ribs, fish fillets, whole fish, and vegetables tend to perform better.
In Fireplace Grilling It is Not Necessary to use boneless cuts.
And Most Importantly, It Tastes Better.
So "Get Your Grill On"
---
---
Indoor Grilling Recipes for BEEF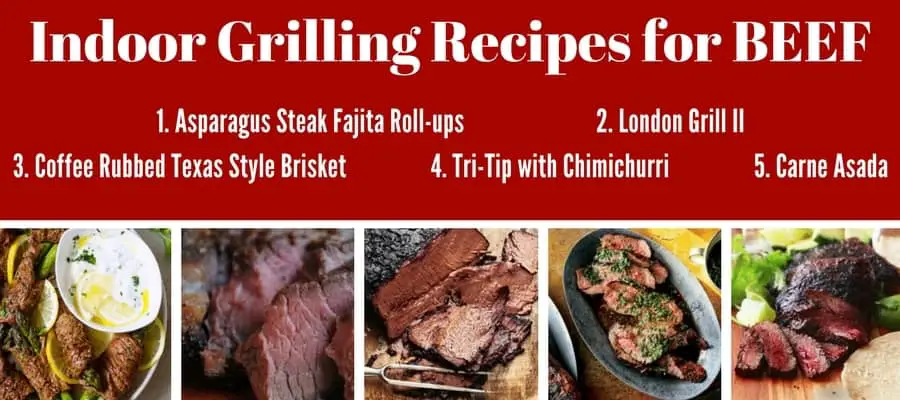 1. Grilled Asparagus and Steak Fajita Roll-Ups — from EatWell101
Add a touch of gourmet to your steak dinner with these grilled asparagus and steak fajita roll-ups, full of the bold flavors of the Southwest. This amazing low-carb, paleo version of your favorite steak fajitas ditches the flour tortilla and adds a green touch of Spring with crisp asparagus. Serve with a fresh spin of lemon, cilantro and greek yogurt dipping sauce on the side.
2. London Grill II — from Jill at All Recipes
The marinade is so flavorful you'll skip the steak sauce.
3. Coffee-Rubbed Texas-Style Brisket — from My Recipes
Grilling alone gives the meat a smoky flavor, and adding coffee to the concoction only makes this tender, melt-in-your-mouth brisket that much better.
4. Tri-Tip with Chimichurri — from Epicurious
The tri-tip is a tender, triangular cut of beef tucked near the sirloin. There are only two per steer, so if your butcher is out, go with sirloin.
5. Carne Asada — from Serious Seats
At its simplest, carne asada is nothing more than skirt steak grilled with a little salt and pepper. But for this version, I wanted to capture the spicy, savory flavor of my favorite Cal-Mex versions growing up. The secret is a marinade made with dried chilies, citrus juice, and (wait for it) fish sauce, for an extra-meaty flavor boost.
---
Indoor Grilling Recipes for CHICKEN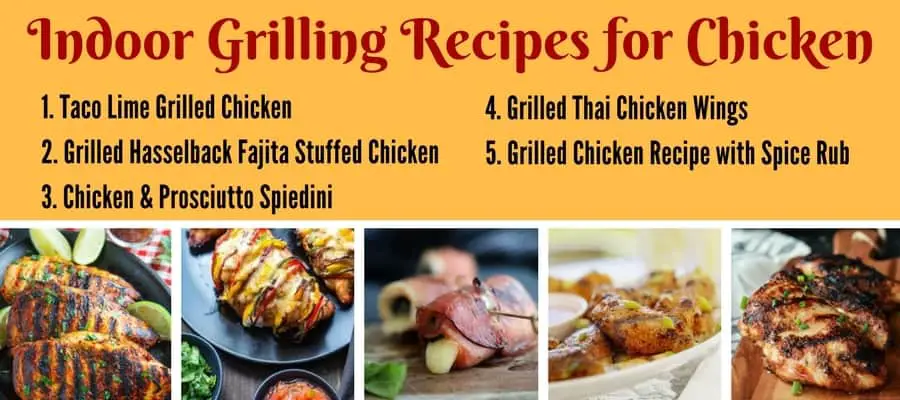 1. Taco Lime Grilled Chicken — from Closet Cooking
This taco lime grilled chicken is super easy to make, you just marinate the chicken in the taco seasoning and some lime juice, grill it and you are good to go! You can serve these tasty chicken breasts as is or slice them up and use them in anything from tacos to burritos, quesadillas, etc.
2. Grilled Hasselback Fajita Stuffed Chicken — from The Girl On Bloor
This Grilled Hasselback Fajita Stuffed Chicken is stuffed with bell peppers and red onions then topped with tex-mex cheese – it's a delicious and healthy weeknight dinner that comes together in a pinch!
3. Chicken & Prosciutto Spiedini — from I Breathe I'm Hungry
Perfect for Summer grilling season, these keto chicken & prosciutto spiedini are easy to make and fun for parties or a quick weeknight meal along with a salad. Salty prosciutto wrapped around thin chicken cutlets and fresh, pungent basil leaves, with an oozy cheesy center – what's not to love?!?!
4. Grilled Thai Chicken Wings — from The Spruce
These fantastic chicken wings are loaded with savory Thai heat, making them some of the best hot wings you will each. The marinade for these wings gets brushed on during grilling to build a thick, saucy surface that everyone will love.
5. Grilled Chicken Recipe with Spice Rub — from JoyfulHealthEats
There are many ways to cook a chicken .. and since chicken is the main meat we eat in this house (much to my husband's chagrin) I've cooked it every way I can think of.
---
Indoor Grilling Recipes for PORK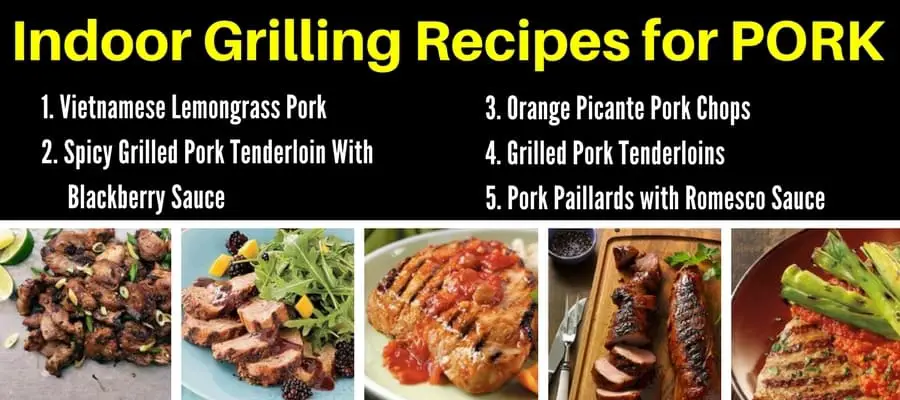 1. Vietnamese Restaurant-Style Grilled Lemongrass Pork — from I Heart Umami
This new recipe will deliver restaurant quality Vietnamese lemongrass grilled pork/pork chops. You can eat it straight, with salad, with your favorite pickles, or with rice, noodles, even bread (if you aren't strictly paleo) or make a sandwich out of it!
2. Spicy Grilled Pork Tenderloin With Blackberry Sauce — from Southern Living
Jerk seasoning brings the heat in this pork tenderloin recipe while the sweet blackberry sauce keeps the flavor from getting too over the top.
3. Orange Picante Pork Chops — from Readers Digest
A quick marinade spices up these chops. For more intense flavor, prepare them the night before and refrigerate until you're ready to grill.
4. Grilled Pork Tenderloins — from Taste of Home
We do a lot of grilling during the summer months, and this recipe is one my entire family loves. —Betsy Carrington, Lawrenceburg, Tennessee
5. Pork Paillards with Romesco Sauce — from Weber
An excellent recipe we love it. Try this and I think you will find yourself eating the other white meat instead of chicken.
---
Indoor Grilling Recipes for FISH and SEAFOOD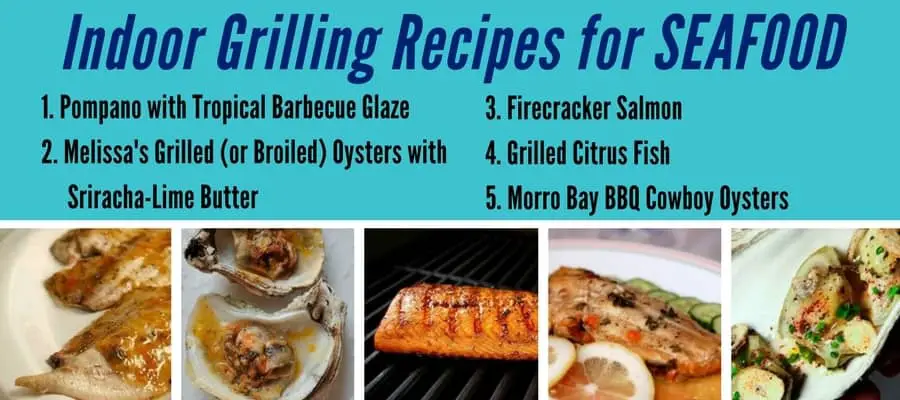 1. Pompano with Tropical Barbecue Glaze — from My Recipes
A little fish substitution didn't faze Maidajohn with this recipe. "This dish was excellent. I used swordfish because I couldn't get pompano. The sauce had a great flavor, with a bit of a kick. I served basmati rice with it; a perfect combination to blend the flavors."
2. Melissa's Grilled (or Broiled) Oysters with Sriracha-Lime Butter — from Melissa at Food 52
Author Notes: Although I love my oysters raw, sometimes a grilled oyster is a nice change. The oysters are topped with a yummy spicy citrus butter that still allows the flavor of the oysters to come through. The butter is also great as a dipping sauce for crab legs and lobster.
3. Firecracker Salmon — from The Spruce
This salmon is marinated in an Asian-style mixture with just enough spice and heat to give it a little kick. Perfect for any occasion and a great way to spice up a healthy choice. Serve with grilled vegetables, brown rice, or quinoa.
4. Grilled Citrus Fish — from Food NDTV
Fillets of sole accompanied with a zesty citrus sauce, both flavourful and healthy.
5. Morro Bay BBQ Cowboy Oysters — from Big Green Egg
These Morro Bay BBQ Oysters are perfect for a date night at home. Impress with this recipe from John Cox of @thebearandstar.
---
Indoor Grilling Recipes for FRUITS and VEGETABLES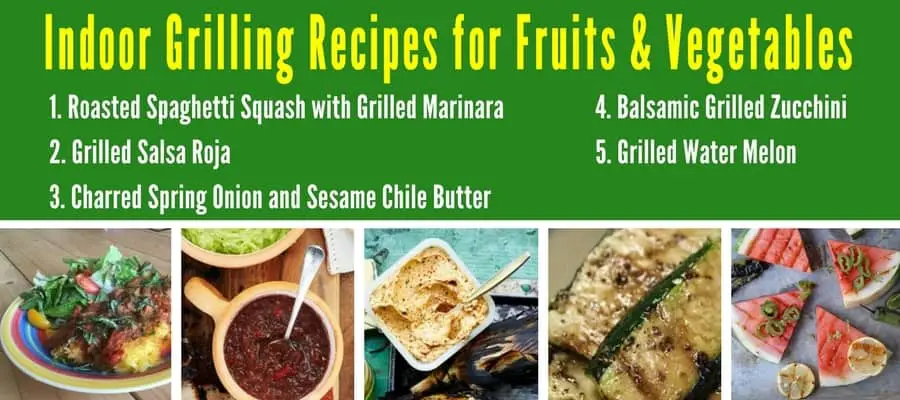 1. Roasted Spaghetti Squash with Grilled Marinara — from Oh Snap Lets Eat
Summer is all about grilling. But once in a while, a stormy evening reminds you that fall is not that far off. For those nights, I crave warm comfort foods.
2. Grilled Salsa Roja — from Bon Appetit
Charring the tomatoes and vegetables plays up their sweetness and adds smoky, bitter notes. This goes great with quesadillas, grilled snapper, and pork.
3. Charred Spring Onion and Sesame-Chile Butter — from Bon Apetit
Bon Apetit scores once again with this great grilling alternative to meat: Japanese shichimi togarashi is a blend of seven seasonings including chile, orange zest, and sesame seeds that can be found at Asian grocers.
4. Balsamic Grilled Zucchini — from LashGal
A simple, easy grilled zucchini with a touch of balsamic vinegar and spices.
5. Grilled Watermelon With Smoked Salt And Jalapeno Rings — from Boulder Locavore
Are you ready to get your grill on? Memorial Day weekend surely is the gateway to summer. Propane tanks are filled. Bags of briquettes flying off the shelves at the outdoor home supply stores. Everything is feeling red, white and blue!
You are now armed with 25 Top Low-Carb Indoor Grilling Recipes. Hope you enjoy them as much as we have.
---
---
BONUS RECIPES
courtesy of LowCarbYum
I used to use prepared salad dressing to marinate chicken before I realized many dressings add cheaper oils like soybean oil. That's when I decided I better start making my own low carb chicken marinade. This is a basic recipe I've been using for cooking chicken pieces on the grill. Just whisk ingredients together and let the chicken sit in the marinade for 1 hour or more.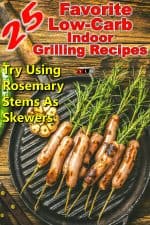 courtesy of SundayGardener
Rosemary can be used as a very effective and tasty spice for grilling. While it's not its only practical use, it will sure add something special for your meals. You don't have to grow rosemary solely for that, but it's a nice bonus.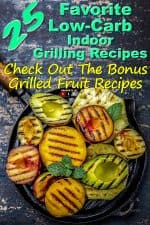 courtesy of MNN (Mother Nature Network)
Fire up the coals and cook up some sweet, caramelized fruit any time of the day. Most fruits work well on the grill if they're coated lightly with a healthy oil so they don't stick and then cooked over indirect heat. Here are 10 recipes for fruits you can grill that should have you firing up the coals all summer and experimenting.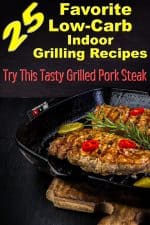 courtesy of GrumpysHoneyBunch
Cilantro Lime Grilled Pork Chops are a quick and easy recipe to get on the dinner table. The pork is marinated for about 15 minutes, then grilled to perfection in about 10. Finish them off with a brush of cilantro lime sauce, then if you're feeling it, add a little more to the chop when it's on your plate!
Click On The Images To View A Few Similar Posts