Within the first few days of going on a low carb diet, most people lose anywhere from 5 to 10 pounds. Cutting carbs, as it has been scientifically proven, can also help reduce risk factors for diseases of the heart, but there are right ways and wrong ways to go on a low carb diet.
How to Cut Carbs Safely and Lose Weight
Just as good carbs exist, bad carbs also exist. Before committing to low-calorie recipes and a low carb diet for weight loss, those interested in cutting carbs should know the difference between the two. Good carbs include fruit and whole grains whereas bad carbs are in foods like white rice, refined sugar, pasta, and white flour.
So just what is the difference? Good carbs offer nutritional value to the body, but bad carbs, in addition to having limited value in terms of nutrients, are absorbed into the system at a faster rate; a process that can cause a spike in blood sugar levels. This, in turn, results in weight gain or other dangerous health disorders.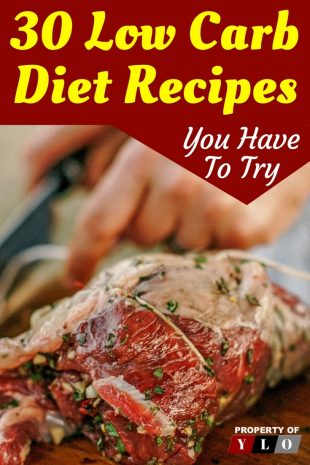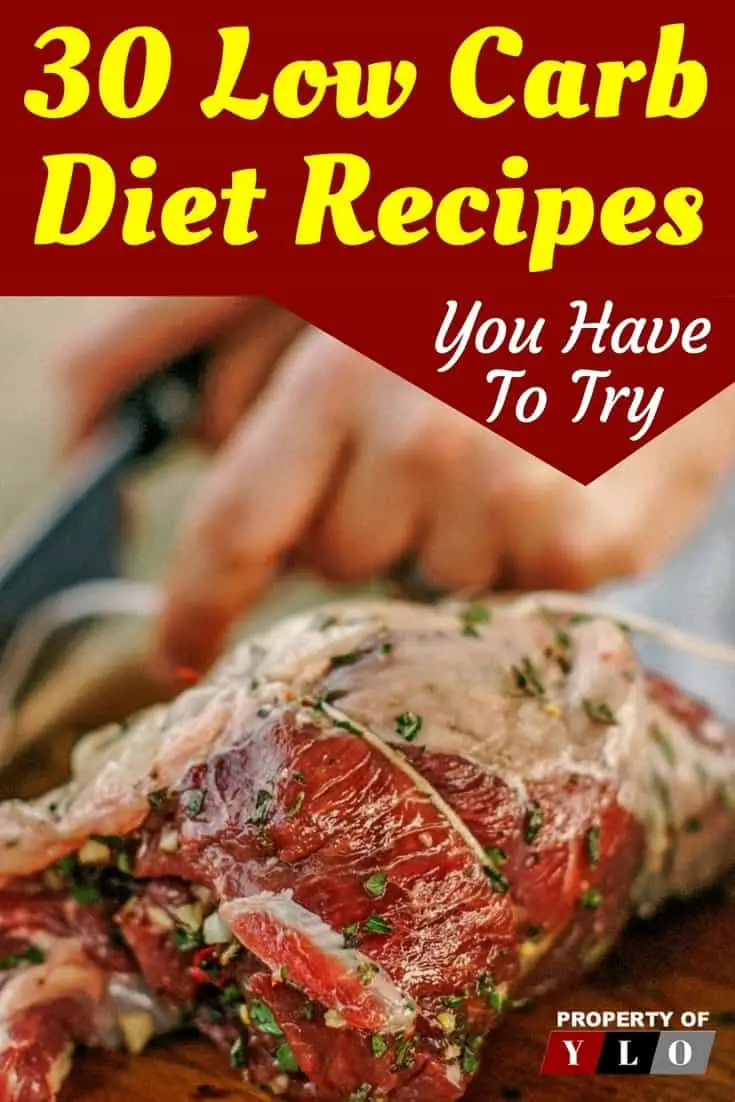 To safely use a low carb diet and cut carbs, it is important to understand what they are and how they affect the body. The mantra that 'all carbs are bad' is familiar to most people, but it is not true. Carbs are essential for energy and prevention of some diseases like diabetes and cardiovascular disease.
Before embarking on a low carb diet and compiling low-calorie recipes for weight loss, therefore, one should always put their health first and conduct comprehensive research on the topic.
Pros and Cons of Cutting Carbs for a Low Carb Diet
On the positive side, cutting carbs will:
‥ Reduce cholesterol, blood pressure, and insulin levels in the body
‥ Reduce inflammation especially around the joints.
‥ Reduce body fat, hence leading to weight loss.
On the downside, going on a low carb diet will:
‥ Increase the risk of ketosis where the body will rely mostly on fat to fuel itself seeing as there will be less energy available from carbohydrates. This will have some side effects like bad breath, headache, exhaustion, and excessive stomach acid.
‥ Increase the risk of nutritional deficiency because most people will be at a loss on what to eat in the place of carbohydrates.
Best Carbs to Stop Eating While on a Low Carb Diet
Just because good carbs are good for the body does not mean that people should ingest them in excess. This, however, is not to say that fruit and brown rice are entirely unhealthy.
Here are six best carbs to STOP EATING, or, at the very least, to eat less.
Bread
One should never fill up on bread, no matter how good it is. Bread is full of refined sugars, meaning that even the whole grain kind is full of carbs.
Restaurant bread baskets and casual snacks like crackers should be avoided by anyone who seeks to cut down on carbs on their low carb diet.
When eating out, it is best to be proactive and order chicken or fish that is prepared without breadcrumbs. Most people eat sandwiches for breakfast and lunch, but those cutting down on carbs have to find other meal options like vegetable salads for lunch and hard-boiled eggs for breakfast.
High Sugar Fruit
Not all fruit is bad, but for those cutting back on their carb consumption, eating vegetables like raw peppers, cucumbers or celery will do them more good than eating fruits like bananas and grapes which have high natural sugar levels.
Starchy Vegetables
Even as fruits are being swapped out for vegetables, low-calorie recipes for weight loss should not include a lot starchy and sweet vegetables like carrots, corn, peas, potatoes and sweet potatoes.
Unhealthy Drinks
It can be fun to spoil oneself with the occasional cocktail drink, but alcoholic beverages are full of carbs. When on a low carb diet, it is advisable to avoid alcohol, and if one must drink, then they should stick to small amounts of clear brews which should be topped up with some lemon or cucumber slices.
Soda and other high sugar drinks like iced tea and lemonade should also be avoided. Here, the best thing to go with would be water.
Excess Condiments
Even a spoonful of barbecue sauce can contribute to weight gain. Replacing ketchup with condiments like mustard and vinegar will help cut down carbs on your low carb diet.
Fresh spices, pepper, and lemon juice are also good options to include in low-calorie recipes for weight loss.
Dessert
At this point, it should be clear that sugar is bad for weight loss. Desserts and sugary snacks should, therefore, be locked away from one's diet options if they wish to lose weight.
A hot cup of tea after dinner should do just fine.
Our Top 10 Recipes for Each Meal
Your Low Carb Diet Breakfast Recipes
1. Sausage Breakfast Scramble
courtesy of SouthYourMouth.com
Since I've been trying to watch my carbs AND eat breakfast (which has been harder than the low-carb thing since I've never been much of a breakfast eater) I started making this sausage scramble. I like to make it on Sunday afternoon, throw it in the fridge then heat up portions for breakfast before heading out to work during the week. It heats up beautifully! Makes 6 servings.
---
2. Baked Denver Omelet
courtesy of CookingClass
Is it an omelet or an omelette? Apparently, it's both but I'm just going to go with omelet because it's shorter. I already have spelling probs then they've got to go and throw in two different versions for words, the madness!? More importantly though is how delicious this Baked Denver Omelet is! Makes 6 servings.
---
3. Southwest Egg Bake
courtesy of GreatGrubDeliciousTreats
There is no better way to start your day than with a great breakfast. Making a delicious breakfast is something that my family enjoys, especially if it has all the fixings! This Southwest Egg Bake has it all, from the bacon and sausage to the cheese and diced green chilies.
This is a simple breakfast to put together, and can feed "an army!" I actually made this for quite a few people and this is definitely a big breakfast. You can adjust the ingredients to fit your family's needs. Makes 8-10 servings.
---
4. Savory Breakfast Cookies
courtest of MyLifeCookbook
These savory breakfast cookies are like an omelet and biscuit rolled into one. Full of tasty savory ingredients for a low carb breakfast on the go. Gluten Free. Makes 12 servings.
---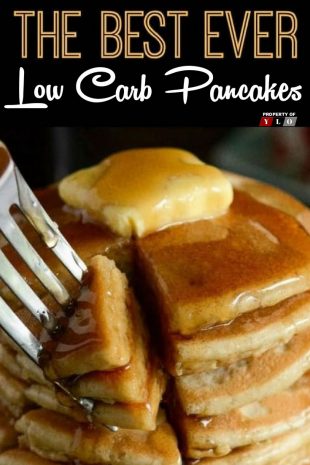 5. Best Low Carb Pancakes
courtesy of TheNoviceChefBlog
Low Carb Pancakes: these gluten free, low carb pancakes, made with almond flour, are a delicious family approved breakfast! Vegetarian. Yield: 5 Medium Sized Pancakes
---
6. Grab & Go Low Carb Muffins
courtesy of SugarFreeLondoner
Do you want a quick low carb, gluten and sugar-free breakfast that is perfect for busy weekday mornings? Say hello to these 'Grab & Go Low Carb Muffins'. Vegetarian, Gluten-free. Yields: 12 Muffins
---
7. Low Carb Waffles
courtesy of FoodieFiasco
Waffles have ripped me off! I have been gypped by a breakfast item. This is not as pathetic as it sounds. I take great pride in my appetite. My ability to wolf down a pint of Arctic Zero is second to none, and I eat entire heads of cauliflower like it's nobody's business. So I have a question to ask the waffle manufacturers of the world: How do you expect us to eat one measly waffle? (btw: when you pour your batter into your waffle maker, 1/4 of what I call a waffle is the serving size) NOT MINE: The Waffle is an actual full-sized waffle (ahem, waffle manufacturers of the world) where you actually get to eat the entire thing. It's grain free, gluten free, low carb, and only 100 calories. For the whole thing. All four of these waffles.
---
8. Cinnamon Twists
courtesy of AllDayIDreamAboutFood
Sweet little cinnamon pastries with a secret ingredient. And yes, they are still low carb and grain-free. This mozzarella dough. Honestly, this stuff is a total low carb game changer for me and I am having way too much fun messing around with it and creating new keto recipes. It's not perfect for everything but it sure works like a charm for any kind of pastry or pizza dough. Yield: 10 twists
---
9. Two-Ingredient Cream Cheese Pancakes
courtesy of BarefeetInTheKitchen
Amazingly thin and delicate, much closer to a crepe than a traditional thick and fluffy pancake, I like these pancakes best when simply dusted with powdered sugar. They were delicious when drizzled with maple syrup or honey as well. These are a completely different kind of breakfast treat and I loved them from the first bite. Yield: (8) 5″ OR (14) 3″ Pancakes.
---
10. Easy Low Carb Breakfast Casserole
courtesy of TheDiaryOfARealHousewife
Breakfast food is the best but I'll admit though I'm so not a morning person. My kids have it pretty down that no request for mommy until after she has coffee. We all pile on the couch, them with milk and me with coffee, and watch a cartoon, every morning! We all need that minute or two to wake up before starting the day. Which is why I LOVE breakfast recipes like this one. Mix it up and toss it in the oven. Then I can have my cuddle and coffee time with the kids while it bakes. Yields: 4-6 servings.
Your Low Carb Diet Lunch Recipes
1. Low Carb Chicken Zucchini Enchiladas
courtesy of JodezeHomeAndGarden
The bold truth: You won't even miss tortillas. The trick is to use a Y-shaped vegetable peeler to peel wide — thin — strips of zucchini. You don't just want to start on a whole zucchini; halve it lengthwise, then peel strips. These are your tortillas. Next drain them on paper towels; the more moisture you release, the better off your enchiladas will be.
---
2. CrockPot Low-Carb Taco Soup
courtesy of BeyerBeware
I love easy recipes that don't take a ton of steps, dishes or hard to find ingredients. I think this is why I was drawn to a simple taco soup. This crock pot low carb taco soup needs five simple ingredients and a few hours simmering to give you an amazing soup for lunch or supper.
---
3. Easy Cashew Chicken
courtesy of KetoConnect
When Matt is away I normally find myself spending all day and night in the kitchen throwing together random things in hopes of a winning recipe. However, the most recent time Matt went home I had a vision in mind. An Asian infused vision. We had a lot of requests for Asian recipes from viewers so I knew just one recipe wouldn't cut it.
---
4. One Pot Teriyaki Chicken Zoodles
courtesy of LifeMadeSweeter
Oodles of zucchini noodles. I just can't seem to get enough. Plus, you guys really love these Mongolian Beef Zoodles and Kung Pao Zoodles. So we've got one more zucchini recipe coming and then we can get back to cozy soups and all things fall.
---
5. Cheesy Chicken and Broccoli Casserole
courtesy of MyMontanaKitchen
I have been attempting to simplify the recipes I fix for my family. That does not mean that I never fix a complicated recipe, but I know that my readers are looking for fast and simple! This casserole fits that perfectly!
---
6. Big Mac Salad – Cheeseburger Salad
courtesy of WholesomeYum
This easy low carb Big Mac salad recipe is ready in just 20 minutes! A gluten-free, keto cheeseburger salad like this makes a healthy lunch or dinner.
---
7. Skinny Chicken Fajita Soup
courtesy of ASpicyPerspective
I just can't get enough soup this time of year. Neither can my family. They would eat soup every day if I made it for them. Any soup is a good idea when it's so frigid outside. Yet we especially love soups with bold flavors and spices!
---
8. Mozzarella Stuffed Meatballs
courtesy of TheRecipeCritic
It's Sara from Dinner at the Zoo and today I'm bringing you these amazingly delicious mozzarella stuffed meatballs. Spaghetti and meatballs are one of the few meals that all three of my kids will eat, so it's on a regular rotation at my house. While you certainly can't go wrong with the classic version of spaghetti and meatballs, you can definitely upgrade the original, which I've done here by stuffing each meatball with mozzarella cheese. It's an unexpected surprise to bite into a meatball and find the cheesy filling!
---
9. Bacon Wrapped Cream Cheese Stuffed Chicken Breast
courtesy of CompleteRecipes
What a surprise!! My new favorite stuffed chicken breast. If the cream cheese and pepper jack don't do it for you, the bacon will put this over the top! The chicken stays very moist as it cooks and the pepper jack cheese will melt and the cream cheese will keep a little form. (If you can't buy pepper jack where you live, any favorite meltable cheese works.) The bacon – well it crisps up beautifully. I turned these over and broiled the bottoms to crisp up bacon that was already well cooked.
---
10. Loaded Cauliflower
courtesy of LowCarbMaven
A couple of weeks ago I brought you lovely people one of my favorite recipes for mashed cauliflower with celery root and talked about how cauliflower is the unsung hero of the low carb world. We use it for almost everything, don't we?
I know that I've personally roasted cauliflower with bacon and green onions as a side and have pureed it to add body to Cream of Celery Soup. I've also seasoned it with exotic Indian spices in a wonderful vegetable masala and I've added it to hearty beef curry. One of my favorite ways to enjoy cauliflower is as cauliflower fritters that sub for hash browns. Yum!
Your Low Carb Diet Dinner Recipes
1. Chicken Bacon Crock Pot Chowder
courtesy of PeaceLoveAndLowCarb
This Slow Cooker Chicken Bacon Chowder is deliciously rich and flavorful. If you are looking to impress your friends with your cooking skills, this would be the dish to make them. Although it keeps well in the fridge, good luck having any leftovers.
---
2. Creamy Parmesan Garlic Mushroom Chicken
courtesy of TheRecipeCritic
Can I get a hallelujah for air conditioning? Our air conditioning went out in the place where we are living now and of course, it is the week before the big move. As if packing and getting ready to move isn't torture enough, I have had to do it in 85 degrees. Gah! It took 3 days for them to get it replaced and working properly.
---
3. Low Carb Jalapeno Popper Chicken
courtesy of AuntBeesRecipes
You guys. I never in a million years could have imagined that this low carb, Atkins friendly recipe would be so popular! It has been pinned over a quarter million times and I get emails and messages from people every day telling me it is their favorite chicken recipe ever!
---
4. Parmesan Garlic Spaghetti Squash
courtesy of EatWell101
Parmesan Garlic Spaghetti Squash—just looking at the ingredients in the title, you know you'll love this. Count 15 minutes prep for this hearty dinner, made healthier with spaghetti squash. This is marvelous, and a really nice change from the traditional Alfredo pasta.
---
5. Sausage Stuffed Portobello Mushrooms
courtesy of FoxAndBriar
Ahhh, you guys. These Sausage Stuffed Portobello Mushrooms are my new favorite thing, I'm not even kidding. You know I love using vegetables as a carb replacer like with THESE bell peppers or THESE bell peppers or ALL the spaghetti squash.
---
6. Creamy Honey Mustard Chicken with Crispy Bacon
courtesy of CafeDelites
I took this recipe, made a few changes, and developed the best creamy honey mustard chicken I've ever tried. IN my lifetime. Most recipes I've tried in the past call for 1 teaspoon of honey and 1 teaspoon of mustard in a whole entire pan of cream (in my world, that's about the size of 2 pin-heads going into a haystack). What is that amount supposed to do?
---
7. Tomato Basil Artichoke Baked Chicken
courtesy of JuliasAlbum
Tomato Basil Artichoke Baked Chicken – delicious chicken breasts smothered in fresh mozzarella cheese, chopped artichokes, tomatoes, fresh basil, and baked to perfection! Comfort food made with healthy ingredients. I love Mediterranean style recipes this time of the year (Spring-Summer) – as the temperatures get warmer outside.
---
8. 20 Minute Shrimp and Sausage
courtesy of PaleoNewbie
Think healthy and hearty paleo cooking takes forever? Got 20 minutes? Here is a unique surf and turf kind of paleo meal that's quick and easy. And it's loaded with wholesome, nutritious stuff which makes it even better. This paleo dish takes more time to chop the fresh veggies than it does to cook. And with its super-easy spices and a pre-cooked sausage of your choice, it'll be on your plate in a snap!
---
9. Low Carb Cauli-Rice & Shrimp
courtesy of ThatsLowCarb
I've been going kinda crazy with the Cauli-Rice lately. You just can't beat a good cauliflower dish, especially when paired with a good bit of protein.
---
10. Creamy Slow Cooker Chicken with Bacon & Cheese
courtesy of KaseyTrenum
I've had such a busy week and didn't want to spend a lot of time in the kitchen preparing dinner. Knowing that I don't have to stop everything I'm doing to prepare dinner late in the afternoon is so nice, especially with 2 babies 2 and under. That time of day everything just seems to go haywire around here.
---
---
BONUS RECIPES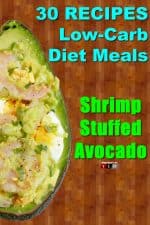 courtesy of GimmeDelicious
Shrimp and avocado have become my new favorite combo. The tenderness of the shrimp and creaminess of the avocado make them a delicious pair for making salads, wraps and just about any dish. Today we're switching things up with these low-carb shrimp and avocado stuffed avocados. They're super creamy and flavorful thanks to the grilled shrimp.
---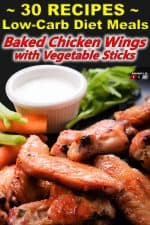 courtesy of LowCarbYum
Tired of wings drenched it hot sauce? This recipe for spicy dry rub chicken wings uses a seasoned blend of ground dried peppers instead. I really like hot Buffalo wings and dry chicken wing rubs as long as there is no traditional breading, they are super low in carbs. I prefer to bake wings rather than fry them as I try to stay away from deep fried foods.
---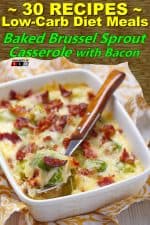 courtesy of WholesomeYum
This low carb, gluten-free brussels sprouts casserole recipe features oven roasted brussels sprouts in creamy cheddar au gratin sauce. Only 9 ingredients! Oven roasted veggies are just about my favorite side dish ever. They are so easy to make and healthy, yet utterly delicious. Besides, you can make them with almost any vegetable you have on hand. A brussels sprouts casserole au gratin is one of my favorites.
---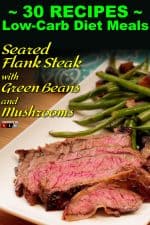 courtesy of LowCarbMaven
This healthy Green Bean Mushroom Saute is the perfect low carb vegetable side for any low carb or keto diet. It takes minutes to make and it tastes great. Low carb sides can be as simple as steamed vegetables with butter or a little more elaborate like a low carb green bean casserole.
---
---
---
Click On The Images To View A Few Similar Posts