One of the best ways to lose weight is the low-carb diet which reduces the number of carbohydrates in your daily diet. Sounds simple enough, doesn't it? However, the question usually asked is: How many carbs do you actually need to limit your consumption to every day in order to lose weight?
The count is simple but complicated at the same time. A low-carb diet has always been compared to low-fat diet. The latter was being followed for a long time until dietitians realized that it does not work well anymore. This is how the low-carb diet came into existence. While there is no scientific proof of how many carbs are low carbs, here are a few tested estimations based on a number of foods that might really help understand the low-carb program.
So, how many carbs ARE in a low-carb diet?
1. Low-Carb Diet: 100-150 Grams
This figure is for dieters and is very easy as a maintenance number that is very easy to accomplish. For this number, you can eat all kinds of vegetables, several fruits, small amounts of starches like sweet potato or a simple potato and grains like oats and rice. The range is popularly known as a liberal low-carb diet.
2. Low-Carb Diet: 50-100 Grams
This one is known as a moderately low-carb diet. It is a great range if you don't want to put in much effort but still want to lose weight. In this way, you can even allow some carbohydrates in your diet. Plus, the range is amazing for carb-sensitive people. For this, you can have lots of vegetables, 2-3 fruits, really low amount of starch and no grains.
3. Low-Carb Diet: 20-50 Grams
If you want to lose weight really fast, then go for this option. This is also known as a Ketogenic low-carb diet. How does this work? When you consume less than 50 grams of carbs per day, your body enters a process called Ketosis. The ketone bodies supply energy to the brain resulting in no appetite. For this, you need to have low-carb veggies, whipped cream, berries, seeds, nuts, and avocados as an example.
Liberal is perfect for those who are less carb-intolerant. Moderate and Ketogenic are suitable for people who are very overweight, have diabetes or need to lose weight fast due to any other reason.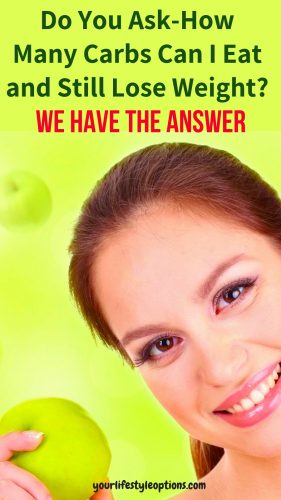 Low-Carb Diet: 10 Recipes Under 10 Carbs Each
Below you will find 10 of our favorite recipes for a low-carb diet that are all great and under the "10 Grams of Carbs."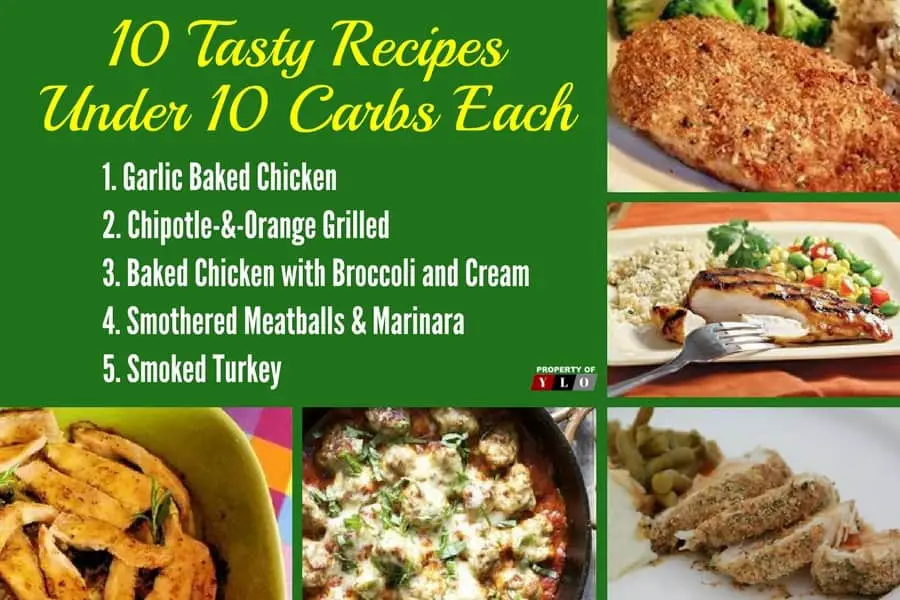 courtesy of Hicklife
Awesome garlic chicken. This gives a plain chicken breast great flavor and maintains your low carb levels. Serves 4
courtesy of Eatingwell
Preheat grill or broiler. Whisk together orange-juice concentrate, chipotle pepper, vinegar, molasses and mustard in a small bowl… View recipe for more details. 4 Servings
courtesy of News24
You can have this creamy meal on the table in 30 minutes or less! Serves 4
courtesy of Maebell's
Enjoy low-carb juicy marinara meatballs! Lean ground pork is seasoned with fennel and marjoram then smothered and simmered in marinara sauce. These meatballs freeze well so you can make a batch ahead of time and reheat as a quick dinner option. Recipe serves 6 at 3 meatballs each. Serves 6
courtesy of Yourlighterside
Smoking a turkey brings out a bird's sultry side. Different than the standard styles of turkey preparations, smoking can be not only easy but economical. Tips: Don't use a huge bird. Because there's a danger zone in keeping uncooked poultry. Servings Vary by Weight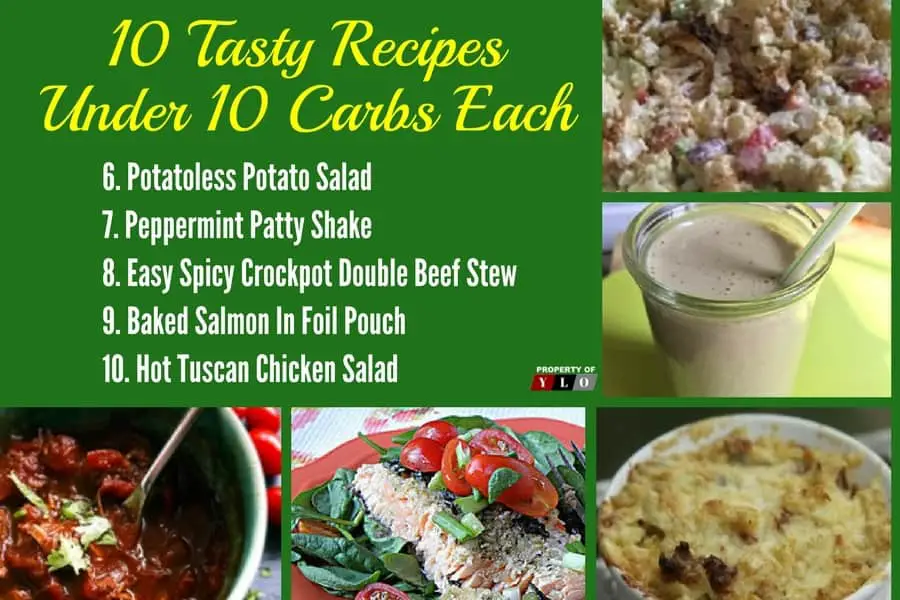 courtesy of Cooks.com
This salad is literally so delicious that people write to me and tell me this salad tastes better than their best potato salad. I have other spouses tell me their loved ones never knew this was a cauliflower dish. Try it for yourself and prepare to be won over. This dish also translates well to a chicken salad; simply sub out the cauliflower for up to 2 cups diced or shredded chicken.
courtesy of Amanda Harriss
Blend 1 cup cashew milk, 1 scoop chocolate whey protein powder, 1/4 tsp mint extract, a handful of spinach and ice. (Thanks to Amanda Harriss for sharing her recipe with me and letting me share it with you!) 1 Serving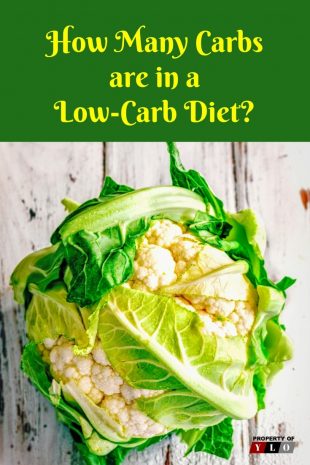 courtesy of Amanda Hughes
I've always been a lover of beef stew, but to be honest, even before my keto days, I always hated how those … Serves 6
courtesy of Community Table
By baking the salmon in a foil pouch, you can lock in all the great flavor, and it will be super moist! Serves 6
courtesy of Yourlighterside
I have added the nutritional information. To save carbohydrates and calories, use 3/4 cup ramekins (or a big casserole dish) and divide out servings that way. I'm a cheap date. What can I say? Serves 4
Click On The Images To View A Few Similar Posts